Electronic Arts (EA) Testing Key Support Just Under $100
Electronic Arts $EA has shed about 35% of its market cap since its top just above $150 a share. This week, share price fell below $100, which was a key support. But there are support factors just under $100 as well - a rising trendline, Still, a climb back above $100 will be needed to signal any bullish attempt, which would also be limited in the current market environment.
EA Daily Chart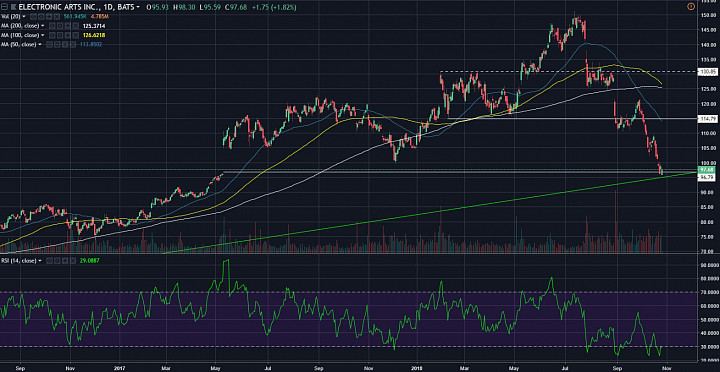 (click to enlarge)
2018-Low:
- From the daily chart, we can say that 2018 has become a down-year. It was basically bullish in the first half and very bearish in the second.
- In 2017 price gapped up above $100 from around the $97 area. We can anticipate some support here, especially since it is coincident with a rising trendline.
Weekly Chart:
- The weekly chart shows this rising trendline coming up from 2014.
- We can also see that the RSI is tagging 30, which is the first time since 2012 when the bull run started.
- The rising trendline might provide some support, but we might want to allow it some elbow space because the overall equities market is still reeling.
- Might might extend lower than the rising trendline, but might find support when it tags the 200-week simple moving average around $90.
- But if the general equities market continues to contract, we might look for EA to drop to the 2017-low around $78-$80.
- Looking at the price action, there is definitely some panic in the market, which could create some extended downside.
- For those with dry powder, this could be an opportunity to buy on dips, although they will have to risk further due to overall market risk.
Above $100:
- If price climbs back above $100, we might get a 10% or 15% bounce, but I would not expect more than that.
- Also, if would not have confidence for the bullish outlook until the general market stabilizes and EA bounces off of $100 as support a couple of times.


EA Weekly Chart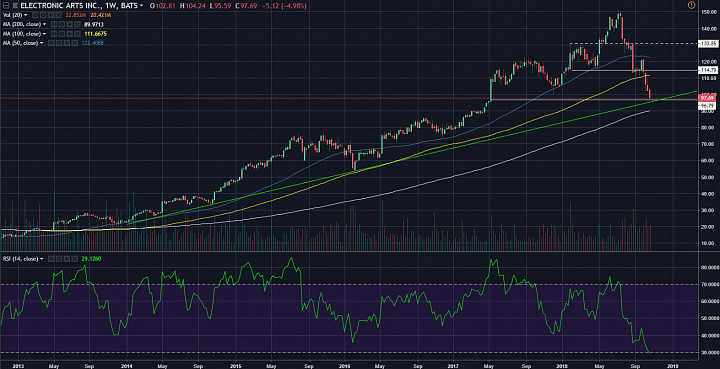 (click to enlarge)