A Moment of Truth for TAN
The Guggenheim Solar ETF (TAN) has been consolidating mostly in a sideways fashion since the end of August between roughly 25.25 and 30.

At the start of the year so far, price failed to form a price bottom and is now threatening the consolidation support area between 25.25-26. 
TAN Daily Chart 1/12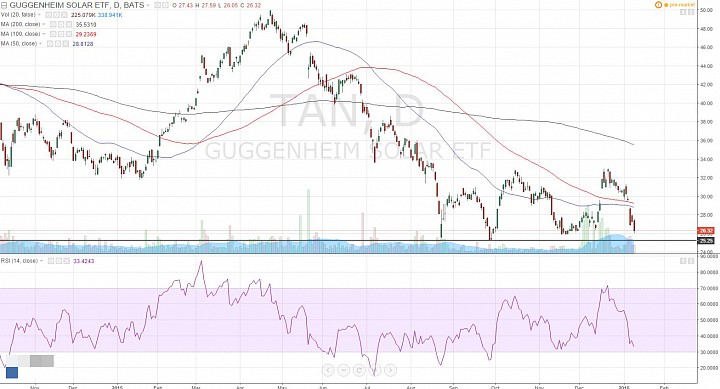 (click to enlarge)

Will the market continue to be bearish on TAN? A break below 25.25 would suggest so. A bearish breakout would open up at least the 21.50 level, using the width of the current consolidation as a projection. 21.50 is also a previous support/resistance pivot. 

If price holds above 25.25, it does have upside to 30, but a clean break above 30 is needed to resurrect TAN and give it a bullish outlook in 2016. 

Will TAN's consolidation support hold?