Okta Inc. (OKTA) in a Bullish Continuation Breakout
Okta Inc. is in the IT cybersecurity business. I am very bullish on cybersecurity as a whole, and OKTA is one of those young companies that has a lot of hype right now. Price action suggests that there is still upside at least in the short to medium-term.
OKTA had a choppy IPO in May 2017, but who doesn't. It eventually ended the year higher, which then propelled into a surge by the start of 2018.
OKTA Daily Chart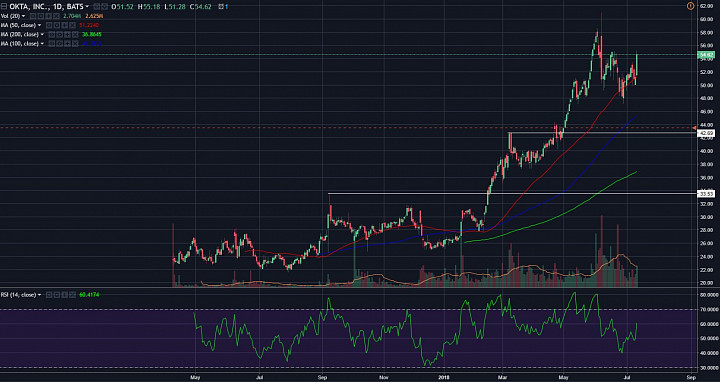 (click to enlarge)
Bulls in Charge:
- There are two competing theories when you look at a chart like this.
- The first is whether the current rally is sustainable. You might theorize that the initial hype phase has already matured, and we should wait for a strong pullback.
- Another theory is that the current bullish momentum has enough gas to push price much higher.
- Both might be right in different time-frames, but in the short-term to medium-term, tend to think price will indeed continue to push higher.
- The fact that price action completed an ABC correction and anchored above a previous support pivot is a good sign that bulls are still in charge.
- Also, the RSI held above 40, which reflects maintenance of the bullish momentum.
- While I wouldn't anticipate another 250% gain like we had a year after the IPO, we can probably anticipate another high.
- The next psychological level of $70 might be an aggressive outlook for now. A less aggressive target can be $65.
- Meanwhile, a dip below $50 is going to invalidate the bullish outlook.
- If we have an entry around $54, with a stop around $49 and a target of $65, we basically have a 2:1 reward to risk with wind behind us (prevailing bullish trend).