iRobot (IRBT) - Anticipating a Longer, Deeper Period of Consolidation
iRobot (IRBT) has been in correction mode since it made an all time high at $118.75 in late August. After a price top, it fell to $76 by late October, where it found support. We then saw a couple waves up, but should now expect more bearish correction price action.
IRBT Daily Chart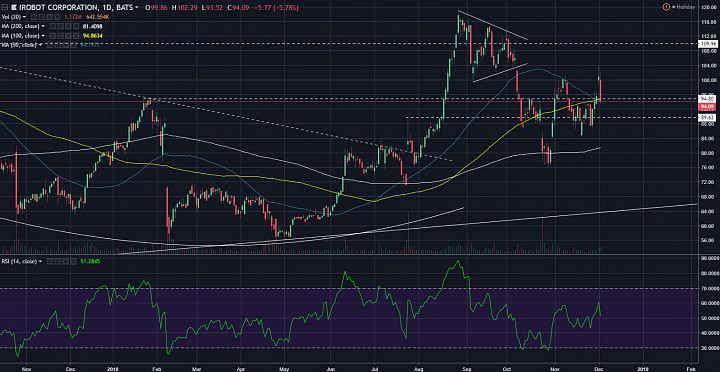 (click to enlarge)
ABC Correction:
- Note that from the $76 low, price made 2 waves up, connected by a wave down.
- We can therefore say that IRBT may have completed an ABC correction.
- The resistance at $104 suggests that the market is respecting the triangle price top formed in September and early October.
- The subsequent bearish price action suggests bears are in control.
- Furthermore, the RSI held under 60, which reflects maintenance of the prevailing bearish momentum (from October).
Downside Risk:
- If IRBT is still in a bearish correction as we would expect, there is further downside to the $70 area.
- If price does fall to $70, we can expect support here.
- The weekly chart below shows that price will find a rising trendline support, and a support/resistance pivot around $70.
- The RSI on the weekly chart would likely be around 40 by then, and it should hold above this level if the overall trend is to remain bullish.
- We should note that so far the overall trend is indeed bullish. However, there was a lot of volatility on the rally, so we should anticipate a long and deep period of consolidation to follow.
- So, even if price does bounce off of $70, we should anticipate price action to be sideways with a possible range between $70 and $100.
- Perhaps, after a couple years of strong volatility, it is time to cycle back into low volatility, in which case we should anticipate some curling (essentially a triangle) between the $70 and $100 area.
IRBT Weekly Chart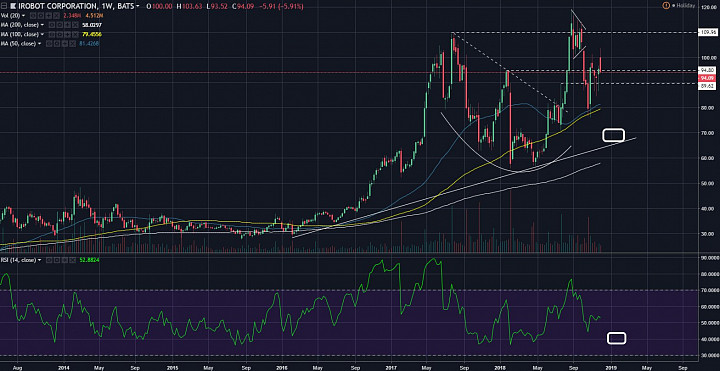 (click to enlarge)