TAN Approaching Falling Trendline and Neckline
I have been stalking TAN for a trade idea since the consolidation during Q4 of 2015. I did buy at consolidation support, and price hit my stop. Since then, TAN has been consolidating again above 20. 

Here's an article that compares TAN with another solar ETF:
TAN vs. YLCO: Which is the Better Solar ETF? (zacks.com)

TAN Daily Chart 4/21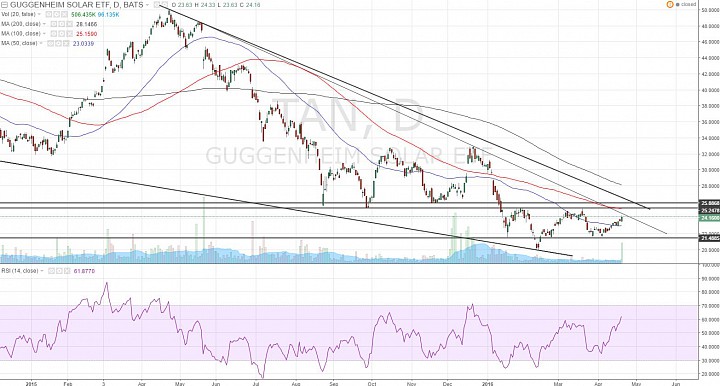 (click to enlarge)
Inverted H&S: We can see that there was a dip to 20, but the lows on either side of this pivot are around 21.50. Essentially, we are seeing an inverted head and shoulder forming. In this pattern, the 25.25 area is the neckline. This neckline shares horizontal space with the previous consolidation range support which goes up to 25.88. A break above 26 would essentially clear this key pivot and complete a bullish reversal pattern. 

Resistance Levels: Now other than the support/resistance pivot and neckline, we should also be aware of a falling trendline. A break above 26 could also clear a falling resistance that goes back to April 2015. 

Also note that above 26, price would be above the 50- and 100-day simple moving average, which would be another sign that bulls are taking over. 

RSI: Another sign I would be looking for is the RSI pushing above 70. That would be a sign of bullish momentum. Now, on a pullback, if the RSI can hold above 40, I would gain even more confidence that TAN has successfully turned bullish. 

Bearish continuation - If price fails to break above 26, but instead falls below 23, we should respect the prevailing bearish trend and look for a test of 21.50. Below that we can anticipate a test of 20 with risk of breaking lower because a failed price bottom can translate to a bearish continuation scenario.