News Corp (NWS) Under Key Support; Watch the Market Fade a Dead-Cat-Bounce
News Corp $NWS fell sharply last week after what was a decent earnings report that was slightly better than most analyst expectations. The pullback suggests the market already felt overheated, and needed a very strong earnings beat to continue the prevailing bullish trend.
News Corp.'s top-line revenue rose 29% year over year, landing at $2.69 billion. On the bottom line, adjusted earnings retreated from $0.11 to $0.08 per diluted share. Analysts had been looking for earnings near $0.06 on sales in the neighborhood of $2.68 billion. (Motley Fool)
Instead, the recent consolidation is extending into a bearish correction as price plunged down to $13.25.


NWS Daily Chart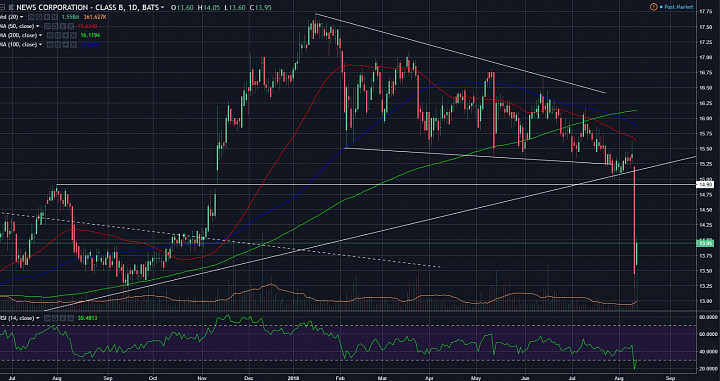 (click to enlarge)
Dead-Cat-Bounce:
- The daily chart shows that after the bearish breakout, price dipped to around the lows from September 2017.
- With the RSI below 30, which shows oversold condition, the market seems to be supported here above $13.25, for now.
- I think we might get a decent pullback, but I would start to expect resistance when price approaches the $14.75-$15 area.
- Looking at the weekly chart below, we can see that the dip opens up the $11-$11.50 area.
- If price indeed gets rejected around $15, we should anticipate another test of the $13.50 area, and a break below $13.50 to send price towards the $11.50 area.

NWS Weekly Chart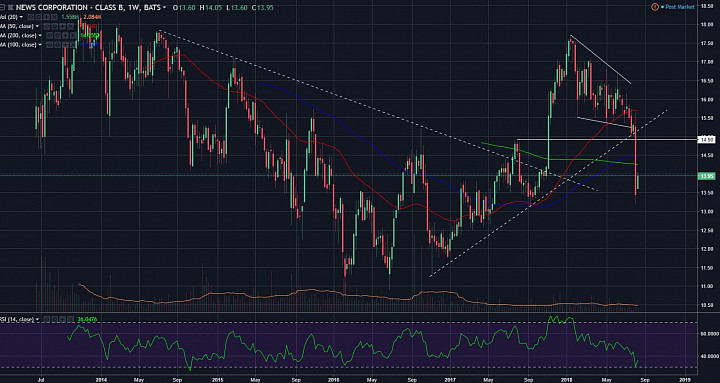 (click to enlarge)