EUR/CHF Completes a Mini Price Bottom Above Anticipated Support
In July, when $EURCHF broke below a key support around 1.1150-1.1180 and turned it into resistance, we noted that there is downside towards 1.08, where there is a key support.
EUR/CHF Confirming a Bearish Break With Downside to 1.08
The market followed this scenario almost to the T.
EUR/CHF Daily Chart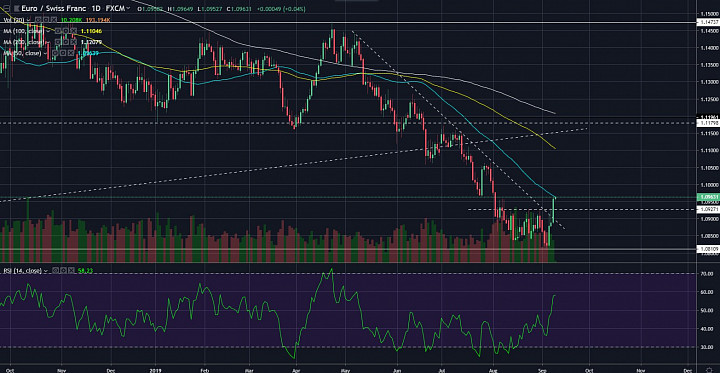 (click to enlarge)
Price Bottom:
- As we can see on the daily chart, EUR/CHF continued to slide until about 1.0810, right at the support area we anticipated in July.
- Price consolidated above this level for a month in August.
- In September, price started to bounce off the 1.0810 support and this week broke above the August consolidation resistance around 1.0930.
- This price action also broke a falling trendline.
- For now, I would limit the upside to the 1.11 area, maybe 1.1150.
- As we can see on the weekly chart, this has been a key support/resistance pivot area going back to 2016 when it was a common resistance.
- The 200-week simple moving average (SMA) also resides around 1.11.
- If the bearish market eventually extends, I would look for downside towards the 1.06-1.0620 area, which involves the 2017 low.
EUR/CHF Weekly Chart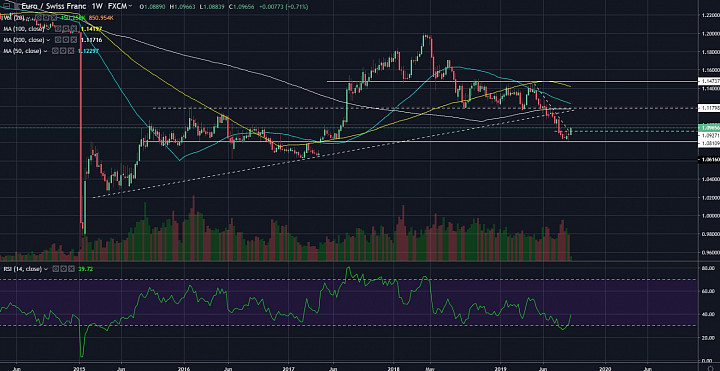 (click to enlarge)