GBP/USD Gaps Down to Fresh Lows on the Year
GBP/USD has been persistently bearish since 1.7191, and is still accelerating. When the week started, cable fell clearly below the 1.63 support from last week, and cleared a couple of support pivots at 1.6252 (previous low on the year) and 1.6217 (Dec. 2013 low). It did so with a gap. 
GBP/USD is now holding above 1.61. The daily RSI is below 20, an extremely oversold condition. With oversold condition, and a gap showing in the daily chart, I would not be surprised by some near-term bullish attempt to at least fill the gap and bring the RSI back above 30.
GBP/USD Daily Chart 9/8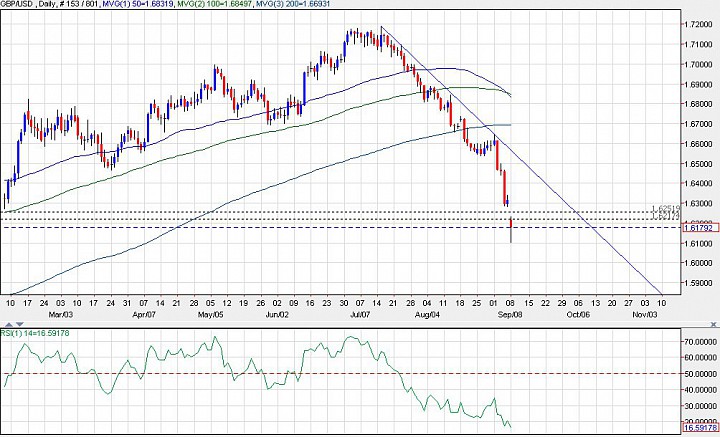 (click to enlarge)

Let's take a look at the 4H chart. We can see a bullish divergence forming here, which adds to the case of a bullish correction at least in the near-term. If this does occur, there might be sellers around 1.630 as soon as cable fills that gap. 
GBP/USD 4H Chart 9/8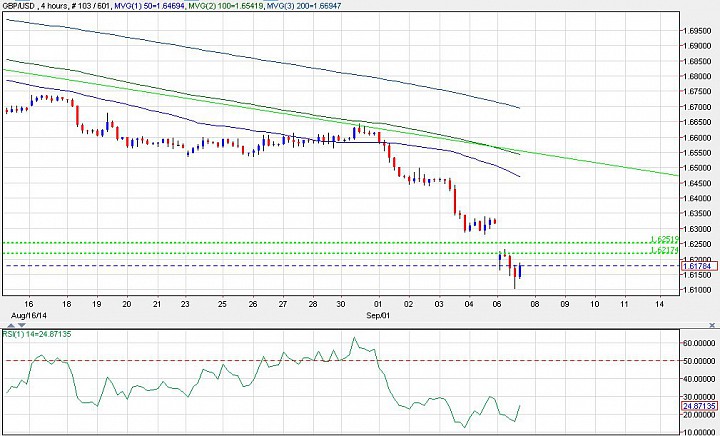 (click to enlarge)

I would be risky to employ the bullish outlook right now as there is still further downside risk toward the psychologically sticky level of 1.60.