UnitedHealth Group (UNH) Confirming a Bullish Breakout
UnitedHealth Group (UNH) is in a strong bullish breakout after flirting with a breakout for a couple of months.
UNH Daily Chart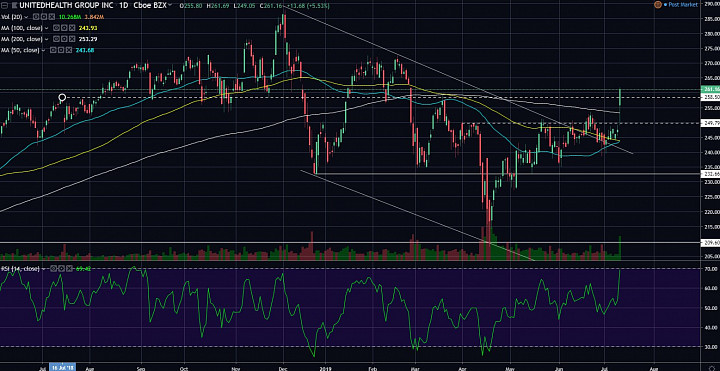 (click to enlarge)
Bullish Breakout:
- Price was attacking the $250 area for a while and even cracked it in June.
- After further sideways consolidation for another month, we are seeing a more determined bullish breakout with strong volume.
- Price cleared several resistance pivots during the 7/11 session.
- This is a good sign that price will eventually push towards the 2018-high around $287.
- Also, with the current breakout, I think the $250-$255 area will be key support in this bullish outlook.

Note that this rally was based on Trump's rebate proposal. Here's a summary from Market Insider:
- Pharmacy and health-insurance stocks jumped Thursday after the White House announced plans to scrap its drug-rebate plan. - The proposal was part of the Trump administration's efforts to reduce drug costs. If implemented, the rebate rule would have prevented pharmacy benefit managers from profiting on deals made between drug companies and insurers. - Administration officials and Health and Human Services Secretary Alex Azar disagreed on whether the rebate rule would be worth the approximately $180 billion it was expected to cost the government over a decade. - The decision spares PBMs from having a major chunk of their revenue taken away.