Netflix (NFLX) Signals a Bull Run with an Engulfing Candle
Netflix $NFLX has been in correction mode since price found resistance just above $420 a share. On the daily chart below we cam see that price has falling from a double top, to almost $310 before rebounding on Monday (8/20). We had anticipated support a little bit lower in the $290-$300 area.
NFLX Daily Chart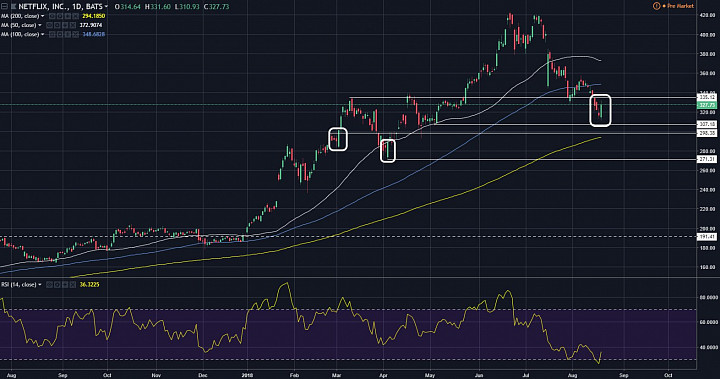 (click to enlarge)

Bullish Engulfer:
- After a 25% correction, NFLX might be due for a bullish swing.
- Price is still above the 200-day simple moving average (SMA), which means the overall trend is still bullish.
- The RSI just dug below 30 and came back up after Monday's bullish reversal candle.
- I think if price can now hold above $320, we will be getting a bullish swing with the $375-$380 in sight.
- This target is still within the context of a consolidation.
- Let's see if the RSI will push back above 60. If it doesn't NFLX would probably still be in correction mode.
- But if the RSI pushes above 60, and even 70, we can be more confident of the bullish continuation scenario.