Boston Beer Company (SAM) - Simple Range Strategy
Boston Beer Company $SAM has been bullish in the first half of 2018 but has gotten into a range in the second half. The assessment is therefore bullish-neutral, and a simple strategy would be to long at range support.
SAM Daily Chart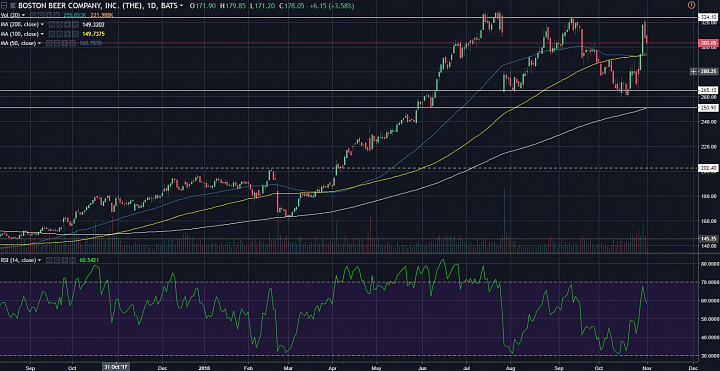 (click to enlarge)
Range Consolidation:
- From the daily chart, we can easily see that SAM is bullish as price is trading above the 200-, 100-, and 50-day simple moving averages (SMA).
- In fact, it has doubled from the 2018-low of $160 as it tagged above the $320 mark several times in the past few months.
- But as we can also see, price has settled into a sideways range between roughly $260-$265 and $325-$330.
- Because the prevailing trend is bullish, I would anticipate support if price falls down to the $270 area.
- Also note that if price does fall back down, the 200-day SMA is also climbing up to meet price right around the $260-$270 range support area.
- In this scenario, we should also allow some elbow space to the $250 mark in case there is heightened volatility, say coming from general market risk.
- I think this is a good support area from which there is upside to the $320 area with the prospect of breaking higher into all-time-highs.