EUR/USD in a Bullish Reversal Breakout
The US Dollar has officially lost its glitter. In 2018, it has been strong across the board, but this strength has fizzled by year's end. I recently still saw some possible USD strength in the $EURUSD pair, but was quickly proven wrong.
EUR/USD - Bearish Engulfer Suggests More Downside
EUR/USD Daily Chart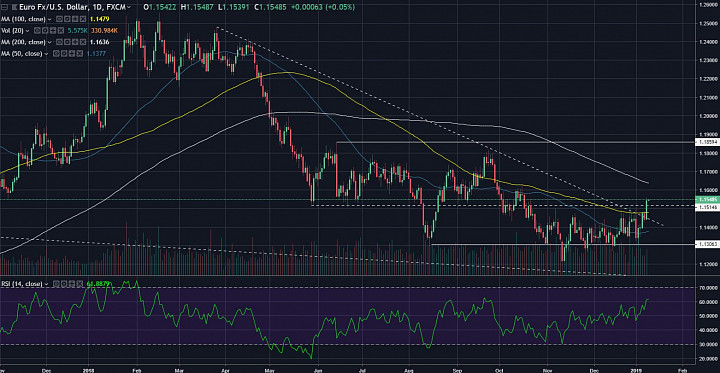 (click to enlarge)
Broken Resistance:
- Price started the year retreating sharply from the 1.1515 resistance. To me, this was a bearish sign, which would be confirmed by a break below the common support around 1.1305.
- The support ended up holding, and price rebounded, eventually breaking above the 1.1515 resistance this week.
- Also note that price broke above a falling trendline resistance.
- We are probably still going to see some choppiness around 1.16, but I think as long as price holds above 1.14, EUR/USD has turned bullish.
- For the bullish outlook, I would like to see the RSI being able to climb above 70 and price able to climb above the 200-day simple moving average around 1.1650.
- If this materializes, I would plan to go long once price pulls back to the 1.1515 area.
- The average target would be the common resistance area that starts around 1.18.