Look for Resistance Against Tesla (TSLA) after a Month of Recovery
After Tesla broke below a key support around $245, we noted possible support around $200, and then $178. Price broken down $200, but did find support around $178. We noted that this was a key support and a rebound in the form of a dead-cat-bounce could materialize. For this DCB, we noted that the $240-$245 area would become key resistance.
If we see another bullish swing, TSLA would be right around this key resistance area. But maybe price won't even make it up here, and respect the current resistance around $230-$235
TSLA Daily Chart

(click to enlarge)
Resistance:
- Note that price will be going up against a falling resistance around $230-$235.
- The RSi is around 60, and a bearish market would likely keep it under 60.
- Finally, note that the volume has been declining during this recent rally, another sign that bulls are weak, and that bears are in charge.
More Downside:
- If price indeed fails to climb back above $235 and falls back to test the $178 support, I think it will fall further.
- The next support is around $150, the 2016-low.
- But I would not be surprised if price gets down to the $100-$115 area.
TSLA Weekly Chart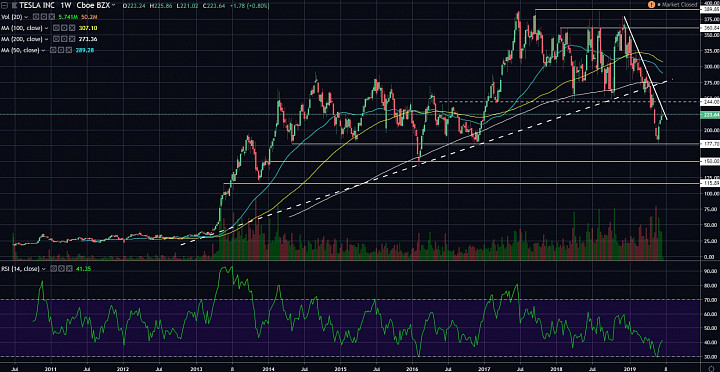 (click to enlarge)