Campbell Soup Co. (CPB) - Earnings Beat Boosts Share Price; Resistance Around $44-$45
Here's the latest report of Campbell Soup Co. $CPB earnings report from TheStreet.com:
Campbell Soup Tops Q3 Earnings Estimate, Lifts 2019 Outlook, as Snack Sales Boom
Campbell Soup Co. posted stronger-than-expected third quarter earnings Wednesday, and boosted its full year profit outlook, as U.S. snack sales impressed following last year's $6.1 billion purchase of Snyder's-Lance.
Campbell Soup said adjusted earnings for the three months ending on April 28 came in at 56 cents per share, down 5% from the same period last year but firmly ahead of the Street consensus forecast of 47 cents per share. Group revenues, Campbell's said, rose 12% to $2.388 billion, again topping analysts' estimates of a $2.35 billion tally.
Looking into its 2019 fiscal year, Campbell said it sees net sales in the range of $9.075 billion to $9.125 billion, and adjusted earnings of between $2.50 and $2.55 per share.
"Our results this quarter were ahead of our expectations, making it the third consecutive quarter that we met or exceeded our outlook," said CEO Mark Clouse. "I am also pleased to see profitability trends are improving, driven by sequential gross margin improvement."
"In the quarter, we continued to drive sales growth in Global Biscuits and Snacks, fueled by our U.S. Snacks portfolio. The business continues its growth trends on Pepperidge Farm, coupled with improvements in the Snyder's-Lance portfolio," he added. "In the Meals and Beverages segment, although there is more to do, we are making steady improvements on gross margin and profit and this business is showing signs of stabilization."
Campbell Soup shares were marked 7.5% higher following the earnings release, indicating an opening bell price of $40.97 each, a move that would extend the stock's year-to-date gain to just over 24%.
---
CPB Daily Chart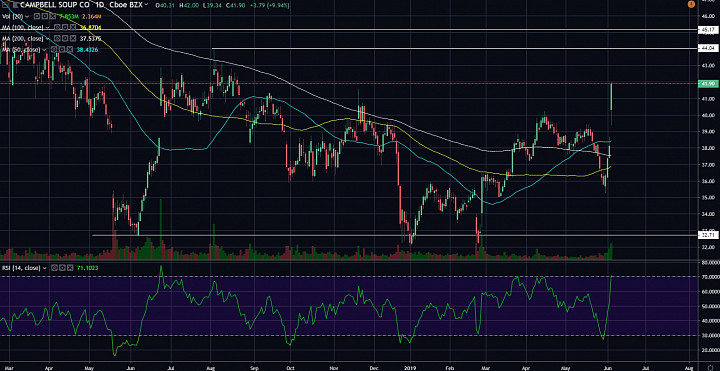 (click to enlarge)
Signs of Significant Recovery:
- On the daily chart, we can see that price action was bearish until mid-2018 when it found support in the $32-$33 area.
- Price action has since been consolidating in a descending triangle.
- The reaction to the earnings report pushed price above this triangle.
- Furthermore, price is now starting to trade above the 200-day simple moving average (SMA).
- We just might be seeing a price bottom forming.
Resistance:
- Before we get ahead of ourselves, we still should respect the resistance in the $44-$45 area.
- After all the overall trend has been bearish.
- A clean break above $45 would complete a price bottom and would suggest at least a test of the $50 area, which is a support/resistance pivot and where the 200-week SMA resides.
- In this scenario, price would also be testing a falling trendline resistance.
- We therefore have 2 key resistance levels one around $44 and another around $50.
Monitoring Reaction from Resistance:
- I think it would be interesting to see the reaction from these resistance levels. Let's say price retreats from $44.
- If price then holds above $38-$40, I think the market will continue higher towards $50.
- Then, if price is anchored above $44, I think price will subsequently break above $50 as part of a new bullish trend.
- On the other hand, failure to break above $44 with a slide below $38 would put pressure back on the $32-$33 support area.
CPB Weekly Chart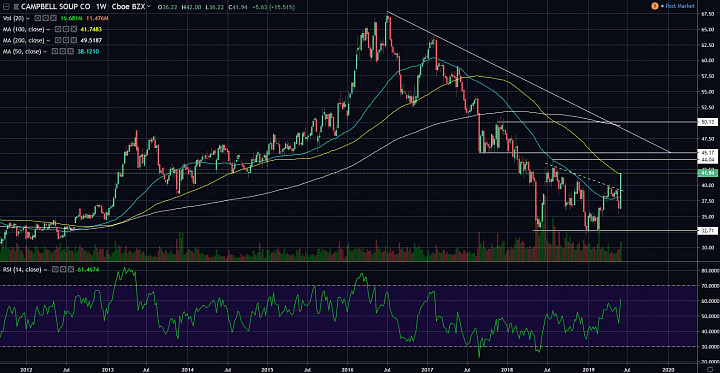 (click to enlarge)