EUR/JPY Looks Bearish but is Right at a Multi-Year "Equilibrium" Area
$EURJPY has been bearish-neutral in 2018. It began the year with a bearish reversal from just above 137 down to 124.60 area. Then it ranged between roughly 124.60 and 133.50.
EUR/JPY is coming down to the support area again and looks likely to break lower. The risk averse environment in general should be a bullish factor for the Japanese Yen and supports the bearish outlook for EUR/JPY.
EUR/JPY Daily Chart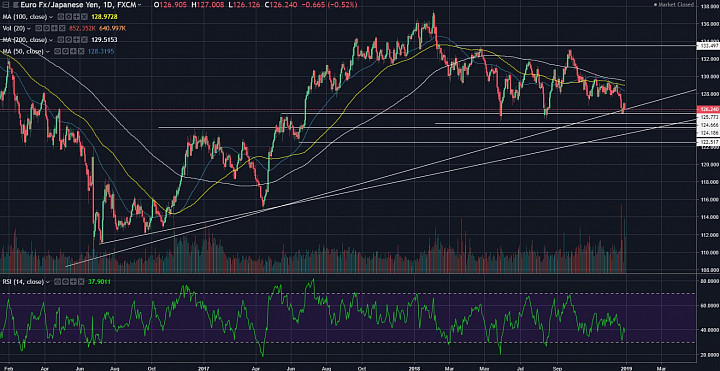 (click to enlarge)
Support:
- There is support around 124.60.
- This support is reinforced by a rising trendline support.
- But I think there is a good chance the force of risk aversion could pull EUR/JPY lower towards the 122.50 support pivot.

Equilibrium:
- Here's the thing.
- EUR/JPY is trading in the middle of a 25-year range (as we can see on the monthly chart below).
- This 120-130 area can be considered the "equilibrium" or central pivot zone.
- If this is the better perspective, we should be looking at EUR/JPY when its too far from the middle of this range (125).
- For example, if price breaks below the 122.50 support and pushes to 118, we can consider a potential swing back towards the 125 area in the short-term, even if there is still more downside in the longer term.
Patience Required for the Range Play:
- A trade plan that could develop down the road (maybe in a couple more years) is if EUR/JPY dips to the 90-95 support area.
- We can play the long-term range with a target of 120 and a stop around 85.
- If price ever gets to 165-170, that would be a reason to short towards 130, with a stop probably around 180.
- Both of these trades would be targeting the middle of the range.
- These are great long-term considerations, BUT there's no reason to save dry powder for it at the moment.

In the short to medium-term, EUR/JPY is bearish, with a strong possibility of pulling back to 125/126 within the context of the bearish trend.
EUR/JPY Monthly Chart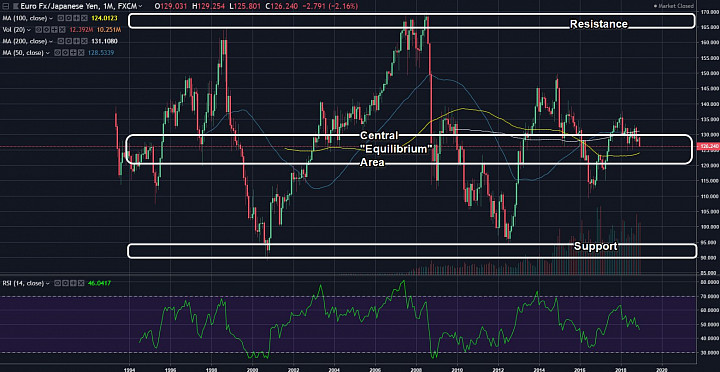 (click to enlarge)