Tesla (TSLA) Sliding to Key Consolidation Range Support Again
Tesla $TSLA is once again back to its 2- year consolidation range support. Looking at the daily chart below, we can see a range between roughly $242.50 and $389.85. Once again, price is sliding towards the support.
TSLA Daily Chart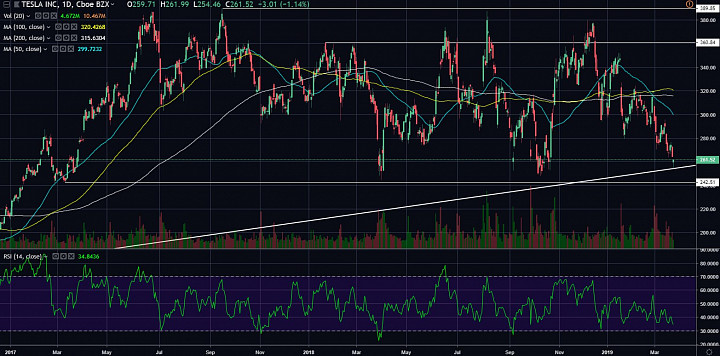 (click to enlarge)
Critical Support:
- At range support, we can expect some buying.
- An entry at $250 for example with a target of $320 and a stop around $230 would yield a strong reward to risk ratio without expecting price to climb back to the range resistance area.
- In other words, we might get some technical buying here.
Downside:
- Now if that trade does not work, and price closes below $240, we could be looking at a bearish trend.
- A clean break below $240 would open up the $200 area down to the next consolidation support around the $177-$180 area. (refer to weekly chart below).
- We can also see that a break below $240 would clear below a rising trendline support, another reason to believe that this scenario would trigger a strong sell-off towards $200.
TSLA Weekly Chart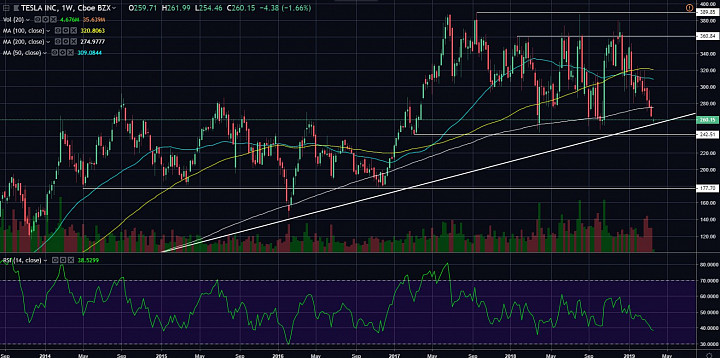 (click to enlarge)