Stalking Fitbit's Bottom Building Attempt
A SWOT analysis of Fitbit illustrates a brand with strong position but also strong competition in a high growth industry. The amount of competition is what concerns wall street, though some believe Fitbit will thrive:
http://investorplace.com/2016/04/ignore-wall-stree...
Looking at price action so far, the market has not been able to latch onto  any real confidence. 

FIT Daily Chart 4/11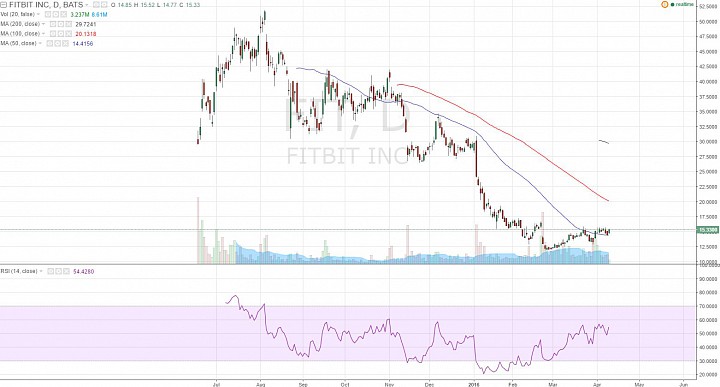 (click to enlarge)
Bearish Chart: The daily chart shows a bearish market. One that screams - stay away. Momentum is persistent, and price action has been bearish since mid-2015 when it peaked above 51. Now, as it hovers above 12, FIT appears to be stabilizing. A consolidation does not always lead to a reversal, so let's not get ahead of ourselves. 

Above 17: From the daily chart, we need to see a break above 17 to consider a bullish reversal attempt. A break above 17 would end the pattern of lower highs. Then, the next dip should hold above 13 to show a higher low. Meanwhile, the daily RSI should at least punch through 60 to show loss of bearish momentum. Then it should push above 70 and hold above 40 on a subsequent dip. 
This is a lot of action before we can "confirm" a price bottom and consider FIT bullish. If this does happen, we should consider buying on a dip. 

Without the Break, play Support: If you want to buy FIT without the bullish signal of breaking above 17, you might require much better reward to risk. Buying around 12.50-13 with a stop below 12 and a minimal target of 15.50, could offer a 2:1 reward to risk. If you plan to have a "runner" or partial position target 17 for example, the reward to risk improves a lot. 
In my opinion, its worth a try to buy FIT with some small exposure, but I would either wait for a break above 17 first, or assume a bottom at 12 and play off it with good reward to risk. But in this scenario, you have to limit the upside to the March high around 15.75 and at most to the February high, which is just above 17.00.