GBP/USD Trying to Complete a Short-term Price Top
The GBP/USD might be completing a short-term price top after the 6/8 session.

GBP/USD 4H Chart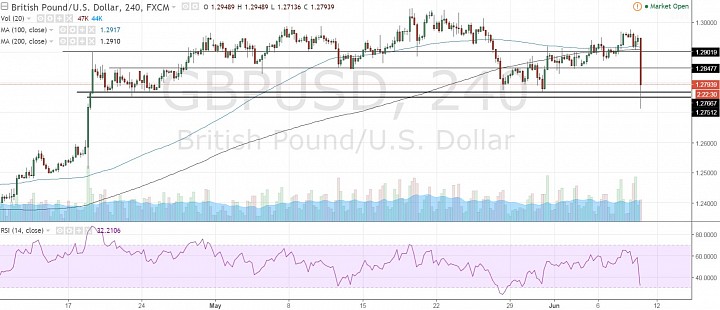 (click to enlarge)

Here are some of the observations that signal a downturn:
1) Price failed to reach to the May high this week before coming down to test support. The lower high suggests the GBP/USD could already be in a period of bearish correction.
2) After the 6/8 session, price also made a lower low, creaking a common support in the 1.2750-1.2770 area.
3) The RSI has tagged below 30, and then failed to push above 70. This at least reflects a sideways market if not a slightly bearish one.
4) Price is now below the 200- and 100-period simple moving average (in the 4H chart). This suggests a trend change at least in the short-term.
5) Since May, we have seen more sharp bearish price action than bullish price action, which has been more choppy.
Bearish Resistance and Target:
- If the market is turning bearish, at least for a period of bearish correction if not a primary trend, then we should anticipate resistance at 1.2850.
- In the bearish correction scenario, we should anticipate downside towards 1.26. There is a key support pivot at 1.2510, and if the market is to settle around there, it will either undershoot or overshoot this key pivot. 1.26 is therefore a conservative bearish correction target for the short to medium-term. (In the next few sessions up to a couple of months).