USD/CAD - Assessing Trade Idea at Channel Support Around 1.3050
$USDCAD has been trading in a rising channel. But at the turn of the year, we saw the USD pare its 2018 gains across the board. In USD/CAD, we saw price stall under 1.37 then falling sharply to 1.32 where it found some support. But price action continues to look heavy, and I think USD/CAD will push towards the 1.3050-1.31 area.
USDCAD Daily Chart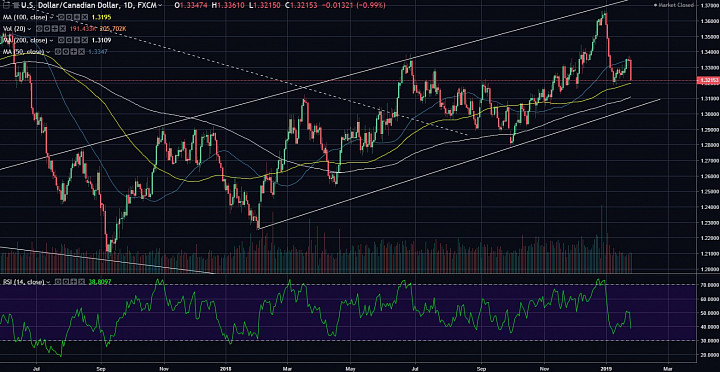 (click to enlarge)
Channel Support:
- Right now, price action looks heavy, with Friday's (1/25) bearish candle being an engulfing candle that covered the previous 2-3 weeks of price action.
- This suggests bears are still in control, so I would anticipate a break below 1.32.
- We can see that below 1.32, there is the channel support around 1.3050.
- Furthermore, the 200-day simple moving average (SMA) is around 1.31.
Trade Idea:
- Let's set up a trade idea to buy around 1.3075 and another position around 1.29.
- The average would be around 1.2990.
- Let's say we have a stop below the 1.28 pivot, at 1.2730.
- In terms of a bullish target, we can have one at 1.3550 and another at 1.38. The average target would be 1.3675
- In this rough plan, we see a reward to risk profile around 2.6:1.
- I think the possibility of price going to 1.38 before going to 1.2730 does have a 50/50 chance because the prevailing trend has been bullish since late 2017.
- There could be some trade adjustments that shifts the reward to risk, but I think in general, this is a viable trade plan.