Facebook (FB) Retreats Around 20% After Earnings Report
Facebook has been resilient, which surprised me because I thought it would find resistance around $175 and fall back to $150 or lower before finding support. Instead, price pushed above $200, and almost touched $220 before falling back to the $175 area.
Let's take a look at the price action and then get some perspective on what the street is thinking about this plunge.
FB Weekly Chart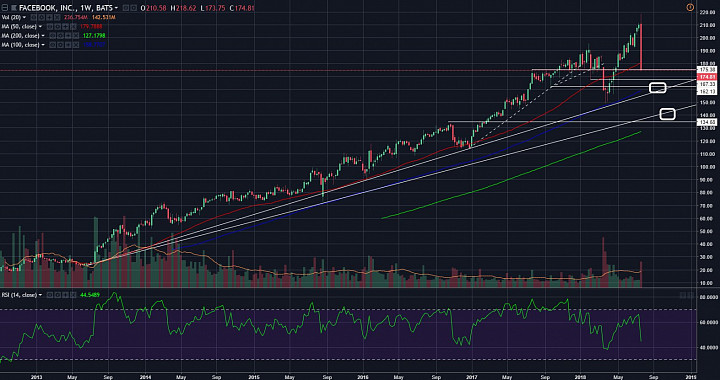 (click to enlarge)
Support:
- If the overall market is still bullish, FB should find support around the $160-$165 area, which is a previous support pivot area as well as a rising trendline.
- Price would also be testing the 100-week SMA here.
Sharp Pullback Scenario:
- However, if the retracement extends, we should anticipate a dip towards the $135-$140 area before we anticipate support.
- Here, price will be closer to the 200-week SMA.
- Price would also be challenging a rising trendline as well as a previous resistance pivot as support. By that time, the RSI is probably going to be around 30 and show oversold condition.
Let's take a look at what the Earnings report showed (TheStreet.com)

Facebook earned $1.74 per share in the second quarter on revenue of $13.04 billion. Analysts were expecting Facebook to report earnings of $1.72 per share on revenue of $13.36 billion.
The company reported that its daily active user base increased 11% to 1.47 billion; its monthly active user base also increased 11% to 2.23 billion.
Mobile advertising revenue accounted for 91% of the company's advertising revenue, up from 87% last year.
However, the company's operating margin fell 3% year over year to 44%.
Here are some more details (CNBC.com):
Chief Financial Officer David Wehner said shareholders can expect "revenue growth rates to decline by high single-digit percentages from prior quarters" for the third and fourth quarter.
...
Wehner also said the company expects margin compression, with operating margins trending toward "mid-30s on a percentage basis," compared with second-quarter operating margins of 44 percent.
...
Facebook failed to add North American daily active users and lost European daily active users in the second quarter, amid data leaks, privacy changes and fake news scandals, the company reported Wednesday.

In its second-quarter earnings report, Facebook said North American daily active users (DAUs) remained at 185 million, the same as the prior quarter. Analysts were expecting 185.4 million, according to FactSet.

European DAUs fell to 279 million in the second quarter from 282 million in the prior period — likely a result of Europe's recently enacted General Data Protection Regulation (GDPR), a set of rules that give users more control over their online data.
The topline numbers were not the concern that would justify this 20% drop. Instead, the weaker internal numbers (growth drivers) from the 7/25 after-hour earnings report juxtaposed with the recent gravity-defying rally gave the market a reason to sell off this social media giant.

But Wall Street is not all gloom and doom on FB: