Bitcoin (BTC/USD) Breaks Consolidation Support and Falls Below $9000
After price came up above $13,000 briefly in late June, Bitcoin (BTC/USD) started to consolidate. Recently, we noted that this consolidation period was turning out a descending triangle, a smaller version of what we saw in 2018 when price hovered above $6000 for months in this pattern before breaking down to almost $3000.
Bitcoin (BTC/USD) Developing a Familiar Pattern That Hints at a Bearish Outlook
That 2018 consolidation pattern lasted more than 7 months. This one was about 3 months so far. Its like a fractal. If we go with the fractal analogy, we can extend the analogy to predict a bearish correction ahead.
BTC/USD Daily Chart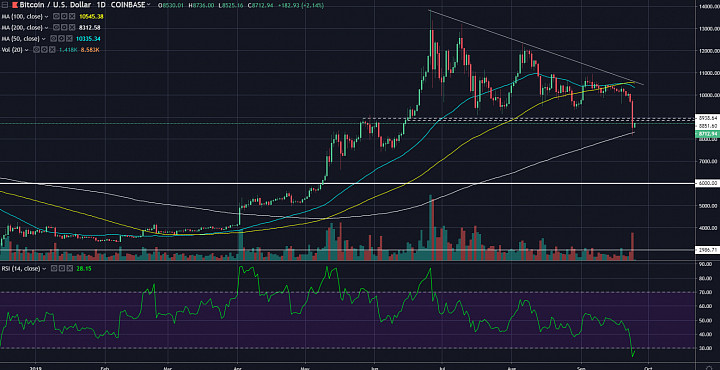 (click to enlarge)
Bearish Breakdown vs. 200-day SMA:
A break below a consolidation support is usually a bearish signal.
Note that this break down was accompanied by relatively strong volume and the RSI falling below 30. These are bearish signs.
However, price is still trading above the 200-day simple moving average (SMA), and some might look at that as a bullish sign.
In my opinion, there is more likelihood that price will break down below the 200-day SMA.
However, I wouldn't be surprised if we do get some short-term support here.
Now if price does rebound, I would like to see if it pushes above $10,000 or not. I would anticipate "not", which would suggest the bearish outlook and an eventual break below the 200-day SMA.
Potential Support:
There might be a support pivot around $7000 pivot
However, the most critical support right now is probably $6000.
I personally have dry powder just above $6000.
But, this is bitcoin. Wild volatility is the rule not exception. If breaking below $6000 in 2018 lead to almost $3000, a break below $9000 this time around can send BTC/USD down to $4500.
BTC/USD Weekly Chart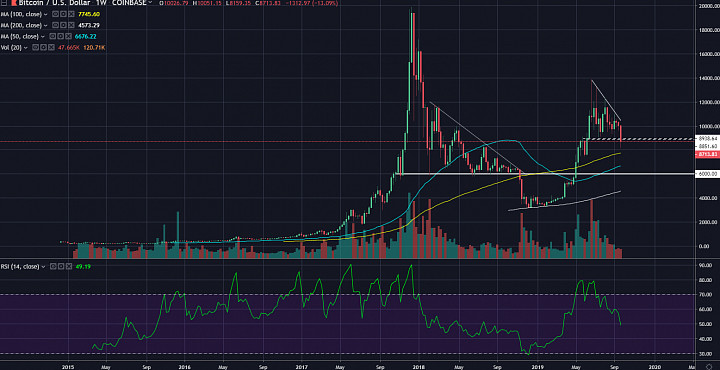 (click to enlarge)
From CoinPowR