Deutsche Bank (DB) Exits Equities; Market Remains Bearish
Deutsche Bank $DB share price has been in a secular bear market. This week, it announced that it is restructuring by exiting the global equities segment, where it has under-performed against its rivals. This is a cost-cutting move aimed to reduce cost through by removing 18,000 jobs by 2020.
Here's a BloombergTV coverage:
---
The market initially had a mixed-reaction to start the Monday session (7/8). However, price action eventually turned bearish. After all, there is way too much uncertainty at this point to assess the results from this "restructuring" and "reinvention" attempt.
While a pivot like this could in the long-term prove to be a critical factor in the bank's resurgence, the more likely scenario in the short-term is that DB will continue to struggle.
DB Daily Chart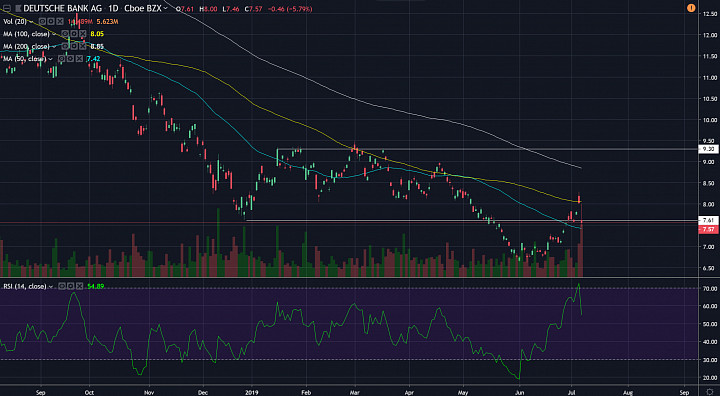 (click to enlarge)
Bearish Trend:
- The daily chart reflects a bearish trend, especially after price action broke below the $7.40-$7.45 consolidation support.
- The June pullback was impressive, but still kept price below the 200-day simple moving average and below the middle of that previous consolidation range.
- The price action since last Friday is indicative of bears remaining in control of this market.
- I think it is very likely that price will slide back to the 2019 lows around $6.65.
- I wouldn't be surprised if price continues the downtrend and extends lower to $6.50, than around $6.00.
- Despite the monumental restructuring attempt, I think DB is a name to avoid when you have other strong bank names such as $JPM.
- On the daily chart below, we can see JPM maintaining its 2019 rally and trading above the 200-day simple moving average (SMA).
- Even though it is still within the context of a 2-year consolidation, price action certainly reflects the market's subtle bullish bias in JPM, especially when compared with the chart of DB.
JPM Daily Chart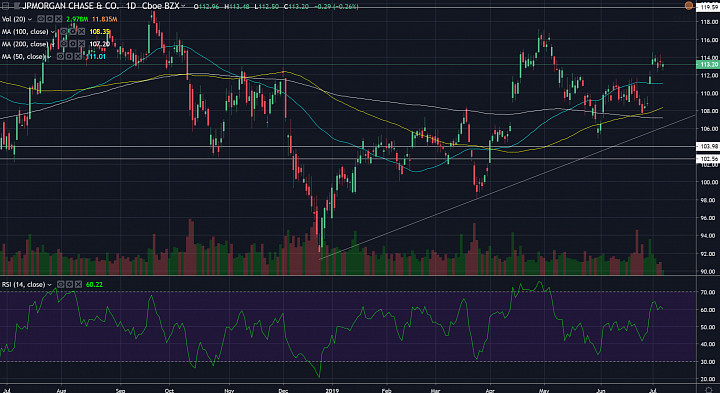 (click to enlarge)