CyberArk Software (CYBR) Pulls Back and Fills Price Gap
Last week, we saw cybersecurity company CyberArk $CYBR surge into a new all-time-high after a strong Q3 earnings report. The earnings report was released after trading closed on 11/7 so the surge created a price gap when the market opened on 11/8.
CYBR Daily Chart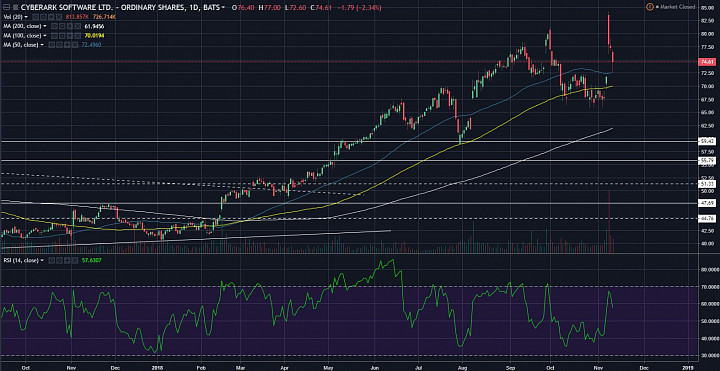 (click to enlarge)
Gap Filled:
- Note that in the past 3 sessions, price has retreated and filled the price gap created on on the 11/8 open.
- Taking a step back a bit, we can see that CYBR has been on a bullish trend, despite the equities market contraction.
- Now, we can't simply ignore general market risk, but we can't ignore that CYBR is bullish.
- It comes down to whether the bearish market risk will overwhelm the CYBR's bullish momentum.
- Now, if the market stabilizes, I think CYBR will find support here at $74.50, and that would confirm CYBR's bullish trend with upside back above $80.