EUR/USD - A Bullish Divergence and Reversal Candlestick Combo
As we should know by now, EUR/USD is in a major bearish trend. Last Thursday's ECB surprise rate cut and announcement of ABS purchases accelerated the decline. After a brief pause on Friday on the back of poor NFP data, EUR/USD continued to fall at the start of this week, falling below 1.29 to 1.2860 by the 9/9 session.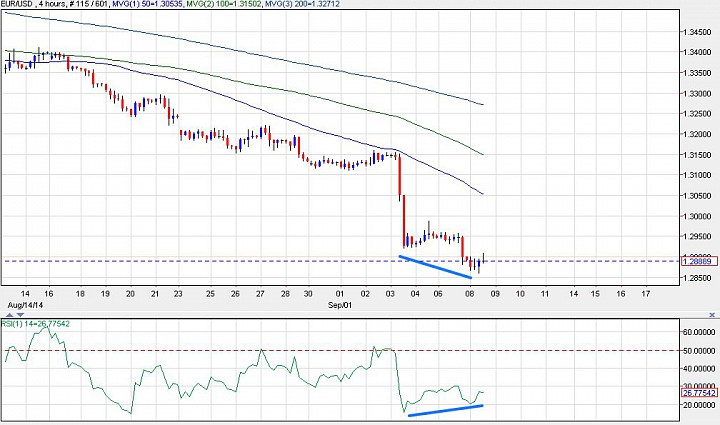 (EUR/USD 4H Chart 9/9)

As we get into the 9/9 US session, we are seeing a bullish divergence between price and the RSI in the 4H chart. Also, there is a reversal candlestick combination off of 1.2860. Will we get at least an intra-session consolidation or bullish correction?

Even if there is a pullback, we need to monitor the 1.2950 area for sellers. This is the middle of Friday's consolidation. A break above 1.30 will be needed to open up any meaningful consolidation or bullish correction scenario. 

For now, the downside risk is heavy, and has the 1.2745-1.28 common lows from March to July 2013 in sight.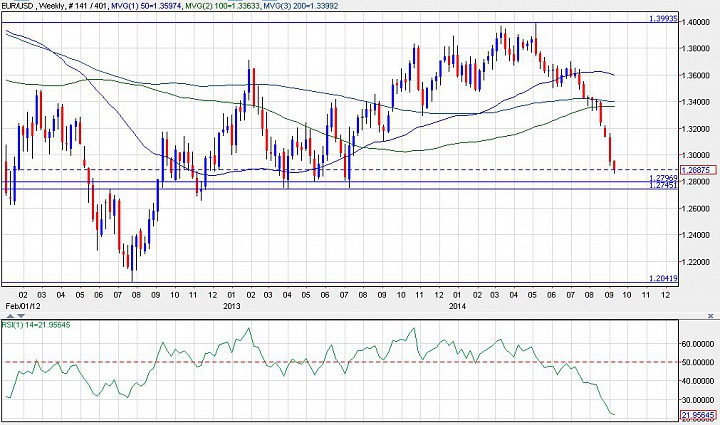 (EUR/USD Weekly Chart 9/9)