Boston Beer (SAM) - a Buy on the Dip Idea
Boston Beer (SAM), the maker of Samuel Adams beers has been bearish since the start of 2015, liding from highs around 325 to a low in 2017 at 128.70.
But in June and July, we saw price start to essentially hold sideways. Then there was a very sharp bullish jump at the end of July bringing price to 165.80 before retreating again.

The question is whether this SAM is essentially going to continue the prevailing downtrend, or if it has started a bullish reversal in which case the market would buy on this dip.

Boston Beer (SAM) Daily Chart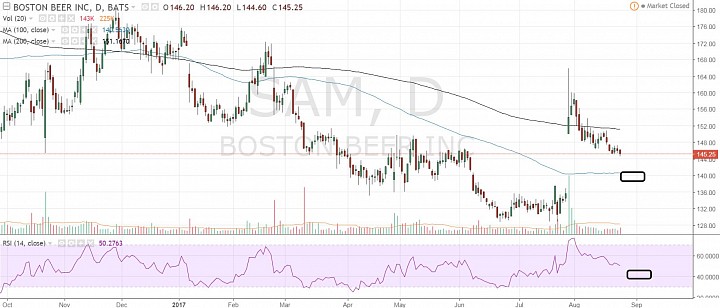 (click to enlarge)
Gap:
- The daily chart shows a bullish gap at the end of July along with very strong volume for that bullish push.
- That push engulfed several months of price action.
- I think the strength of this push with the strong volume is indicative of the first leg of a bull run. I think we should anticipate at least one more extension to the upside.
Buy-on-Dip?
- Price is sliding, and if SAM falls to around 140 it would be interesting.
- If the RSI is also around 40 when price is around 140, look for price and the RSI to turn up.
- If they do, we might see another bullish swing to at leat test the 165-166 area.