Snapchat (SNAP) is Looking Feisty
Snapchat's IPO was not the most successful. It first rallied from its original price of $17, but eventually fell down to almost $11.00 in August. But it has since been feisty.
SNAP Daily Chart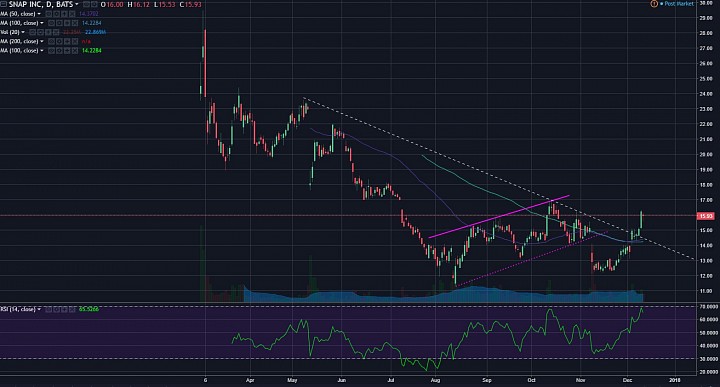 (click to enlarge)
Trend Shift:
- The daily chart represents a stock that has been bearish since April.
- But after making a low of 11.28 in August, it has been consolidating.
- Then there was a bearish continuation breakout that broke below a consolidation channel.
- However, price did not extend down to the 11.28 low, and instead reversed.
- Price action has been strong, breaking above a falling resistance.
- Price is about to test the October high at 17.00.
- We can expect some push towards the 19-20.00 area, where we should anticipate resistance.
Upside Limited, But There is Upside:
- SNAP's struggle to grow active users will continue due to competition i.e. Instagram/Facebook. This has been priced in after the IPO as instagram grabbed market share of users.
- However, it can still create more value through growing its Average Revenue Per User (ARPU), which is low relative to comparable companies.
- The ARPU has been low because SNAP offers unique, non-standard ad formats, and advertisers don't like uncertainty of new formats.
- If SNAP can attract advertisers, the active user struggle can be minimized as revenue can continue to grow.