NFP Beats Forecast; EUR/USD Has 1.08 in Sight
Bearish after Brexit: EUR/USD fell sharply after the Brexit vote. The swing broke below a rising trendline, and the mode turned bearish.
EUR/USD 4H Chart 7/9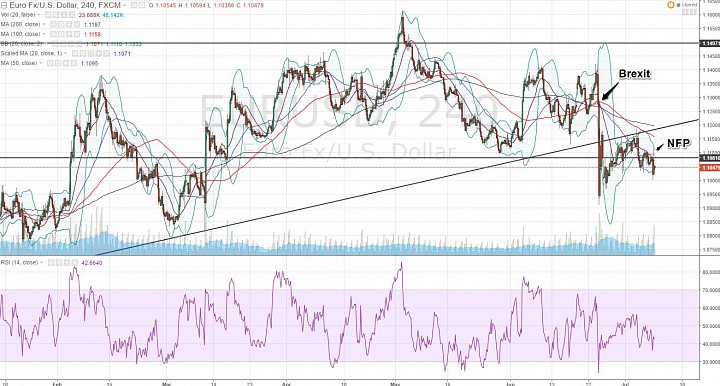 (click to enlarge)
Bearish Confirmation: My contention was that this bullish correction would see resistance around 1.12.
https://txcharts.whotrades.com/?snapshotId=8e24b49...
Price did indeed start retreating just before reaching 1.12. Then, ahead of the NFP, price stalled again just under 1.11. 
NFP: After the NFP release, the EUR/USD started to shake up and down. It came up above the previous session high, but eventually fell lower to tag 1.10. At the end of the day, the USD did edge higher after the market saw a better than expected number of jobs added in June to the US economy. For the EUR/USD, bears seemed to have won, and the 1.08 handle and common support area will be in sight. 
7/8 US jobs reports:
(actual, forecast, previous)

(from forexfactory.com)
We also saw unemployment rate go up, which is not a big deal. It shows more people entering the job market. The average hourly earnings number was a bit underwhelming.
Strong Data to Drive a Hawkish Fed: The NFP report should be considered a good sign, but definitely falls short of instilling confidence that the Fed would raise rates soon. If we want to translate jobs data to a hawkish Fed, we will need a couple more strong jobs reports (200K+), where we also see stronger upticks in the average hourly earnings numbers. In this scenario, the USD should be strong, and the EUR/USD should be pressured towards the lows on the year around 1.0450.