WTI Crude Oil (USD/WTI) Confirming Resistance and Maintaining Bearish Outlook
A week ago, I noted that WTI Crude Oil was facing a key resistance after a rebound from around $51 to $60. Price held under $60 and traded sideways for a few sessions. But price action during the Tuesday (7/2) session was a stronger confirmation that $60 was indeed a key resistance, and that the prevailing bearish market is still in play.
USDWTI Daily Chart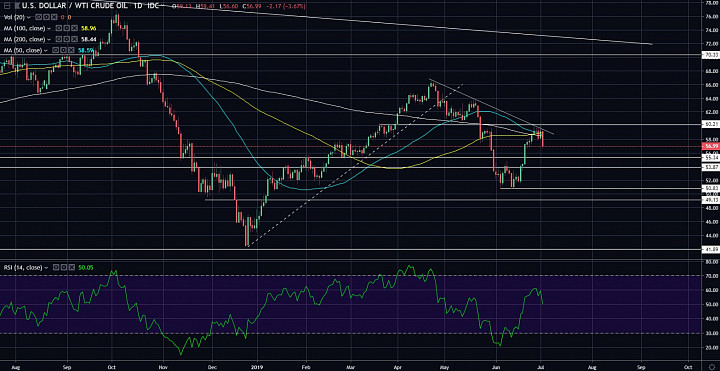 (click to enlarge)
Bearish Signs:
- Price held under the cluster of moving averages including the 200-day SMA, a sign that bears are in control.
- We also saw price held under a previous support pivot as well as a falling trendline.
- Finally the RIS held under 60, which reflects maintenance of the prevailing bearish momentum.
Downside:
- I think price will be pushing against the $53.85-$55.30 pivot area soon.
- If price can hold under $58, we should see further downside towards the $50-$51 area.
- If price continues lower and breaks below $49, we should look for downside towards the $42 low from 2018.
- This $40-$42 area will be critical support.