Crispr Therapeutics (CRSP) Recovery Faces Falling Trendline Resistance
As the equities market recovered at the turn of the year, so did Crispr Therapeutics $CRSP. After falling to about $22 in late December, it has rebounded to about $37.15 a month later. But here it faces resistance up to the $40 handle. In such a tentative market, I believe the market will be a net seller of CSRP at these prices.
CRSP Daily Chart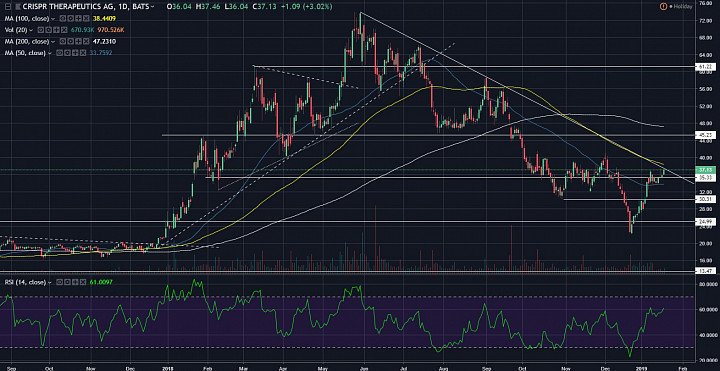 (click to enlarge)
Falling Resistance and RSI:
- If the market is still in bearish correction mode, it should respect the falling trendline (seen on the daily chart above) as resistance.
- This trendline is reinforced by the 100-day simple moving average (SMA).
- More importantly the RSI is right around 60. If the market still has bearish momentum, it turn the RSI down below 60, forgiving a couple sessions above it.
$40 Resistance:
- There is also a strong possibility that price will push through this falling resistance because the general market has shifted from bearish to a more sideways consolidation.
- In this scenario, we can expect a push to $40. But here we see a support/resistance pivot, that was common resistance since September 2018.
- If the RSI is around 70 and price is around $40, I would also expect sellers.
Downside:
- The downside is limited to how bearish the overall market is right now.
- The recent recovery can dissipate at any time. If the markets go back into bearish mode, CRSP is likely going to revisit the December low around $22, with a possible reach towards $20.
- But if the general market has indeed shifted into sideways mode, CRSP has more of a chance to consolidate sideways as well.
- In this scenario, we might see price find support as high as $30. If not, we should still limit the downside to $25 during a non-bearish market environment.
My Strategy:
- Because there is no way to predict the mode of the market in 2019, I will prepare some dry powder for CRSP at $20 in case the worst is not over.
- At the same time, I want to start averaging in around $30.
- What I don't want to do right now is to chase the current rebound thinking this is the market bottom. IT CAN be, and within this context I think price can still revisit $30 and I would still have a chance to be exposed to a possible market recovery.
- But I would not go heavy on this bullish outlook.