EUR/AUD Testing Critical Support - Trade Assessment
The EUR/AUD has been bearish throughout 2016 and has accelerated downwards in 2017. However, it is now testing a critical support, and the market might buy it here at least in the short-term.
EUR/AUD Weekly Chart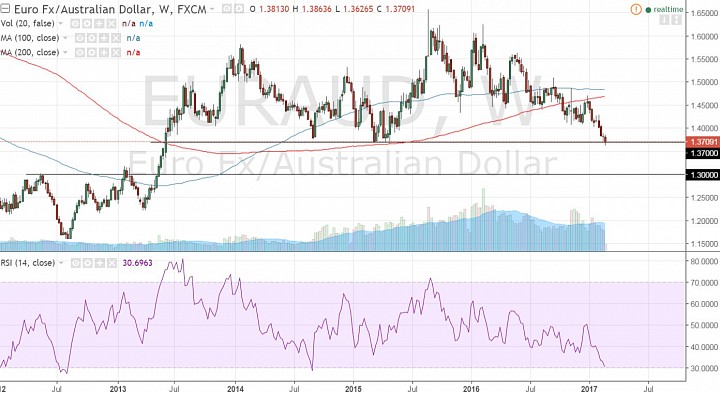 (click to enlarge)
Key support:
- The weekly chart shows that price has been more or less sideways since 2014. 
- In the long-term, there is not clear direction.
- But in the medium-term, price is bearish.
- This bearish trend is now testing 1.37, which is a key support pivot in 2015. 
- Will price find support here?
- I think we can anticipate some short-term buying here, regardless of whether we think EUR/AUD will recover or whether there is more downside towards 1.30.
- So, let's take a closer look to see if price is finding support here around 1.37.
EUR/AUD 4H Chart 2/22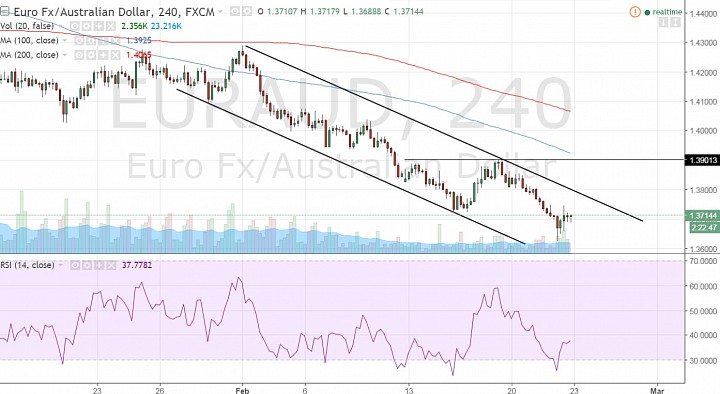 (click to enlarge)

Bearish:
- The 4H chart shows no signs of a reversal yet. 
- Price is trading under the 200- and 100-period simple moving averages (SMAs).
- The RSI is holding under 60 and tagging 30, which reflects maintenance of the bearish momentum.

Assessment of Reward to Risk and Timing:
- Still, let's consider an entry at 1.37 with a stop below 1.36 ie. 1.3580. 
- This is a risk of 120 pips.
- There is upside to 1.39 and at most 1.40 for now. 
- 1.39 offers a potential of 200 pips and 1.40 offers a potential of 300 pips, but is less likely.
- The reward to risk is satisfactory, but the timing and price could be better.
- For example, if we wait for price to develop a bullish divergence with the 4H RSI, we might be more confident of the bullish correction scenario.
- But waiting for another signal could mean missing the bullish attempt because a bullish correction does not require a bullish divergence first. Thing is, there is always a trade-off between waiting for more clues and getting into a trade in time.
- I think we can straddle the two scenarios and open a short position at 1.37, with another to open lower and/or another time if a bullish divergence materializes.