I like EUR/GBP Here Around 0.8870
EUR/GBP has been sliding after almost tagging 0.91 in August. It is now around 0.8880, and I think there is a good chance price will stall here and turn up.
$EURGBP Daily Chart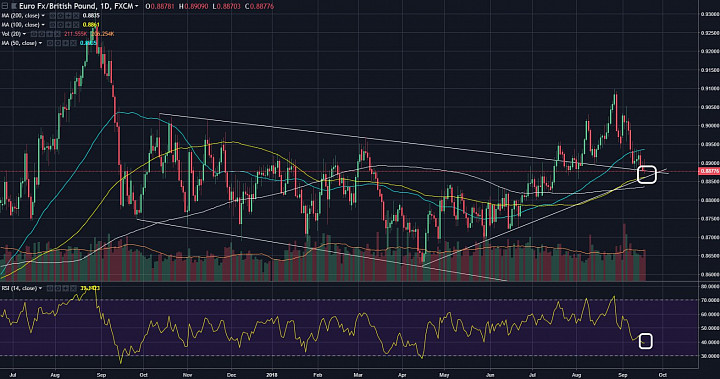 (click to enlarge)
Bullish Breakout and Pullback:
- Looking at the daily chart, the narrative of EUR/GBP's price action in 2018 is that of a breakout and pullback.
- We can see that the pair started consolidating in October 2017, but broke above the falling channel July/August 2018.
- After almost tagging 0.91, EUR/GBP retreated. It is now right above a key support area that involves: 1) The cluster of simple moving averages (200, 100, and 50), 2) the previous resistance line, and 3) a rising trendline.
- Note that during the consolidation, there was a bearish tilt, and the RSI held under 60. If the market is bullish, we should start expecting the RSI to hold above 40.
- With price around key support levels, and the RSI around 40, we can anticipate a bullish attempt soon if the July/August breakout is indeed the start of a bull run.

Reward to Risk:
- Let's say we expect upside to 0.91, which is not a conservative bullish outlook.
- Then let's say the stop would be 0.8780, below the 200-day SMA and below a psychological level.
- If the entry is around 0.8870, there is a risk of 90 pips and a potential gain of 230.
- This trade has a 2.55:1 reward to risk profile.