Bitcoin (BTC/USD) is in a Hype-Driven Melt-Up; Watch Out for Break Below $3900
In my opinion, the rally we have seen in Bitcoin $BTCUSD since late December is a bull-trap, a melt up. I believe the rally in 2019 has been mostly based on hype. Development has always been there, but the narrative has been heating up more than what I think the development deserves so far.
Still, in the short-term anything can happen. Price has entered a short-term range, and a break above this range can continue the recent bull run towards the Feb-high at $4200, and potentially the critical resistance around $4400.
BTC/USD 4H Chart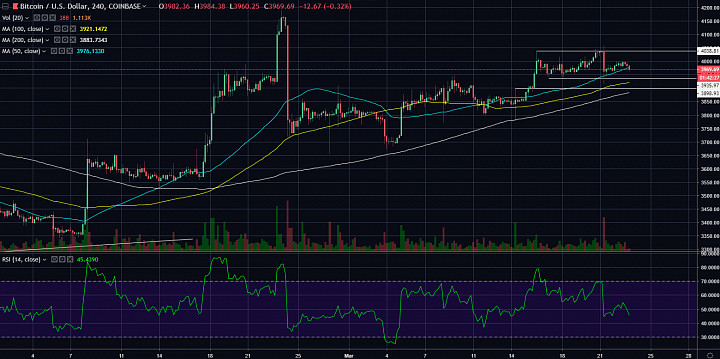 (click to enlarge)
Bulls Resting:
As we can see on the 4H chart, price action has a bullish structure at least in the past month.
As price came up to $4000, it started to consolidate. After a couple of sessions, price is still essentially held within the $3940-$4040 range.
A break above $4040 continues the current rally with the $4200 Feb-high as the next resistance, and $4400 consolidation-high as the most critical resistance. (See Daily Chart).
However, a break below $3940 puts pressure on the $3900 level. Then a break below $3900 would signal a reversal against the month-long bull swing, and put pressure back towards the $3500 area, and eventually towards the lower $3000 support area.
BTC/USD Daily Chart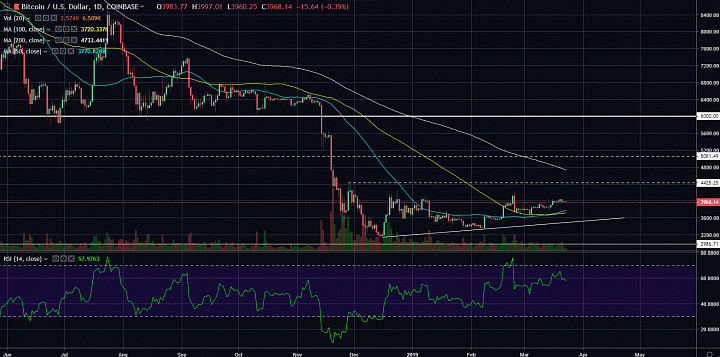 (click to enlarge)
Just a Period of Consolidation:
When we look at the daily chart, and move back into the perspective of a long-term trend, we can see that price structure is neutral-bearish.
It will take a break at least a break above $4400 to show a potential price bottom. This would open up the $6000 area as the next key resistance.
However, I think there is more volatility and consolidation ahead.
Therefore, I am not chasing the current rally, but will accumulate more only if price falls back below $3500. I am also still holding dry powder for the bearish case towards $1800-$2000.
Again, this bearish outlook will have to start with a break below $3900.
From CoinPowR