Disney's (DIS) Reveal Helps Price Break Above Multi-Year Consolidation Pattern
Disney $DIS got a big boost last Friday 4/12 after unveiling its direct-to-customer service.
Disney Steals Apple's Thunder in Detail-Oriented Disney+ Reveal (thestreet.com)
Some are calling this the Netflix-killer $NFLX. The hype is reflected in Disney's share price surging from $116.60 at the close of Thursday to $127.90 by the open on Friday. By the end of the week DIS settled at $130.06.
DIS Weekly Chart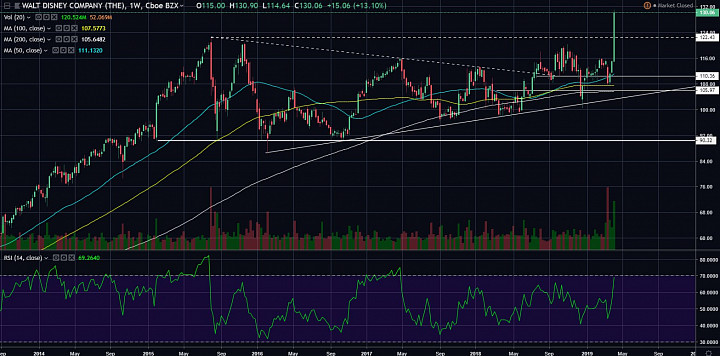 (click to enlarge)
Bullish Continuation Breakout:
- The weekly chart above shows the bullish continuation breakout from a multi-year consolidation pattern.
Waiting for Pullback?:
- While there should be more upside above $130, I prefer to wait for a pullback against this hype.
- I would rather wait for price to be around $118-$120 before considering a buy.
- Buying shares now above $130 feels like a product of FOMO (fear of missing out), which is not a sustainable tactic even if it does yield good gains once in a while.
- The thing is, this is a really strong breakout from a multi-year consolidation, so we might see some short-term extension before a pullback.
- While waiting for a pullback to $120 is ideal, I think practically an entry will have to be higher, closer to $125 because I think there is a lot of hype here that won't let price dip back to $120.
I have 2 trade considerations:
1) To quickly catch the breakout and exit as it pushes towards $150 (short-term trade: entry soon with exit within weeks). The entry would be around $130.
2) To ease into the breakout in order to capture better dollar average entry point, and to hold for potential of pushing above $150. (medium-term: entry throughout the next few weeks with exits after a few months to over a year). In this scenario, if price action continues to show bullish signs, we might consider holding DIS even longer. The entry level would first be spread out between $130 and $125, but with dry powder to get in around $118-$120 as well.
DIS Daily Chart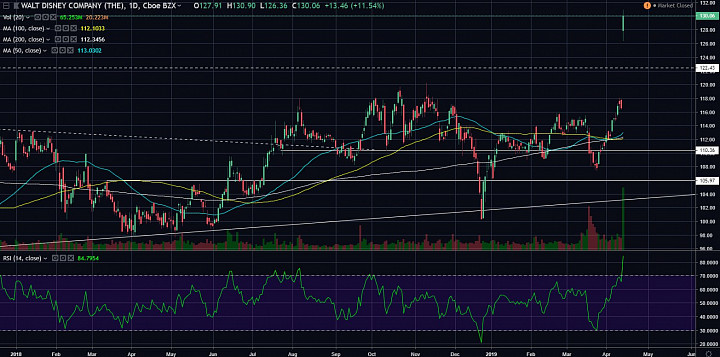 (click to enlarge)