TEVA Pharmaceutical (TEVA) Continues to Signal Bearish Outlook Towards $11
I have posted many bearish outlooks on TEVA in Q4 of 2018, especially after price broke below a wedge pattern and therefore signaled bearish continuation. Price action has since continued to confirm the bearish outlook.
Teva Pharmaceutical (TEVA) Remains in a New Bearish Channel

Teva Pharmaceutical (TEVA) - Broken Wedge Support Tested as Resistance
After a recovery in January, price action is again signaling bearish continuation.
TEVA Daily Chart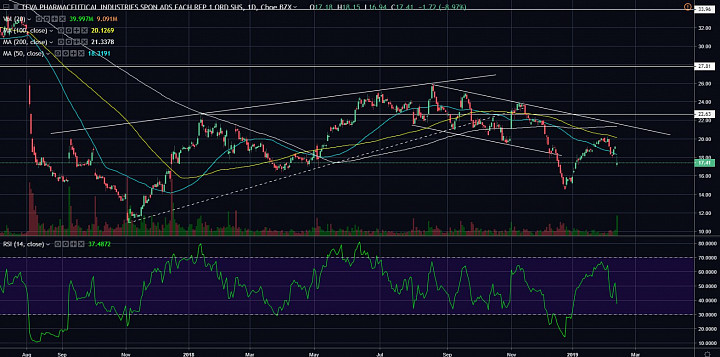 (click to enlarge)
Respecting Resistance:
- We can see on the daily chart that after price came up to $20 in January, it stalled.
- This area represented a previous support area, as well as the cluster of the 200- , 100-, and 50-day simple moving averages (SMAs).
- Essentially, TEVA respected a previous support area and the 200-day SMA as resistance, which is a bearish sign.
- It fell sharply during the 2/13 session, further confirmation the turnaround here.
- Note that the fall at the moment is faster than the rally since late December through January .
- This price action suggests downside to at least test the previous support in the $14.60-$15 area.
- If price indeed falls to $14.60, I would not rely on it as support.
- The $11 low from 2017 is still in sight, though we can anticipate some support there, maybe even a little higher, around $12.