Redfin (RDFN) - Bearish Breakdown Opens up the 2018/2019 Lows Around $14
Redfin $RDFN was making a remarkable recovery in Q1 of 2019, rallying from a record low near $13.70 to a higher just under $23.50. As we can see ont he daily chart below, this rally broke above a falling resistance and the cluster of moving averages. In other words this recovery signaled an end to the bearish trend, and suggested a possible bullish trend.
Alas, the key support of $20 and another critical support around $18 did not hold. Price also fell below the cluster of moving averages, the 200-day SMA being the most watched one. Thus, RDFN is now back in correction/consolidation mode with those $13.70-$14 lows back in sight.
RDFN Daily Chart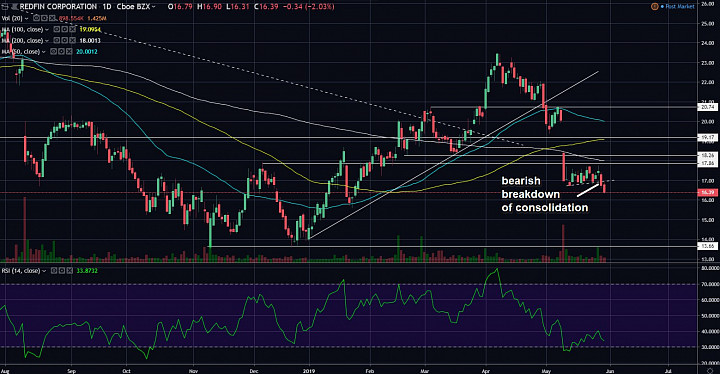 (click to enlarge)
Bearish Continuation:
- While the medium-term trend could have turned sideways, the short-term trend is clearly bearish.
- As we can see on the daily chart, price has been consolidating for a couple of weeks.
- However, we saw a failure to climb back above the $17.50-$18 resistance area as well as the 200-day SMA. The dynamic with the moving average is called a bearish slingshot.
- Then, this week, price also broke down below short-term consolidation that developed in May.
- This breakdown continues to make the case for a return to the $14 area.
- Maybe this level will hold. If price never broke above $20 in February and then the falling trendline in March, I would not be so confident of support at $14. The February-March price action suggests the market is sideways and not bearish.
- I will be considering a buy around $15.