AUD/USD - Bearish Breakout; Targets, Entry Points, Scenarios
AUD/USD has been bullish in 2017 but slowed down in February and is now likely turning bearish.

AUD/USD 4H Chart 3/3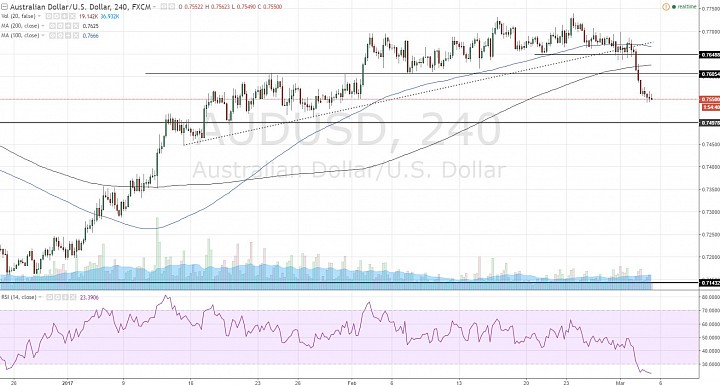 (click to enlarge)
Shift in Trend:
- The 4H chart shows the change in pace in the prevailing rally. 
- When it fell below 0.7640 this week, AUD/USD completed a price top. 
- Then, the pair fell sharply, signaling a bearish correction or reversal.
Entry Points, Targets:
- If AUD/USD rallies, we should consider shorting it in the 0.76-0.7650 area.
- I think we should also watch the 4H RSI. An ideal situation is the RSI coming back up to around 60, but turning back down after failing to clear it. 
- Take a look at the daily chart below.
- The 0.75 handle would be the first bearish target. 
- The 0.7310 area could be a more aggressive target.
- Finally, the most bearish target should be limited to the 0.7140-0.72 area, which is the support of a year-long price range as we can see on the daily chart.
AUD/USD Daily Chart 3/3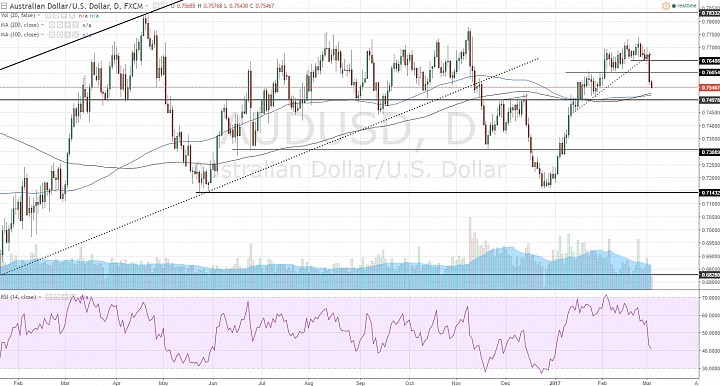 (click to enlarge)
Watch Reaction at 0.75:
- If AUD/USD finds support at or above 0.75, and the daily RSI turns up from 40, we could still be in a bullish situation with upside back to 0.77 and even the 0.7833 high from 2016. 
- Basically if price bounces off 0.75, it would be a battle between the bulls at 0.75 and the bears in the 0.76-0.7650 area. 
- A break below 0.75 on the other hand should open up the other two targets at 0.7310 and the 0.7140-0.72 area.
- On the other hand, a break above 0.7650 makes the bullish outlook more likely with the 0.7833 high in sight.