Tesla (TSLA) Retreating Back to Consolidation Range Support Again
Tesla has been trading sideways since 2017 between a support just above $240 and a resistance around $390. The daily chart shows that price has been declining since late 2018 after a failure to reach that $390 resistance. Price is trading under $280 now, and approaching a rising trendline support, as well as the range support just below that rising trendline.
TSLA Weekly Chart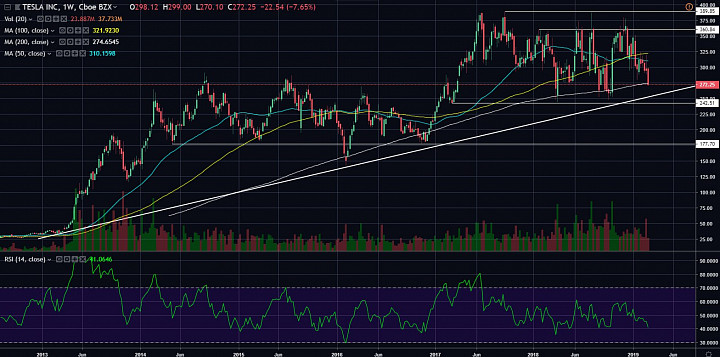 (click to enlarge)
Bullish Long-term Structure:
- While price has been essentially sideways since 2017, the overall price structure in the long-run has been bullish so far.
- Price is still above the rising trendline and mostly above the 200-week simple moving average (SMA).
- Furthermore, the RSI holding above 40 for the most part reflects a market that is trying to maintain that prevailing long-term bullish momentum.
- Soon, Tesla will likely test these conditions as price falls towards the $240-$250 support area.
Bearish Scenario:
- Because this $240-$250 area has become a critical support, a break below $240 could open up a swift bearish swing towards $200, or even the next key support around $178.
Support Respect Scenario - Trade Plan:
- On the other hand, we might simply see a continuation of the sideways market since 2017.
- I am considering a short-term trade here. Let's say I can average in an entry price around $250 with a stop at $230.
- A conservative target of $300 gives me a 2.5:1 reward to risk ratio.
- I think the middle of the range around $320 is a viable target, which improves the reward to risk.
- The targets in the resistance area of $360-$390 would be a bit risky. If price does rebound to $300-$320, I would likely take profit and leave only a portion of the position as a runner towards this aggressive target range.
- Meanwhile, I would have a trailing stop so even this small position will lock in profit.