Amazon (AMZN) Retreats after Mixed Earnings Report
Amazon's growth might be finally be decelerating. Let's look at a summary of its latest Q2 earnings report from MarketWatch:
Amazon's run of record earnings comes to an end, and the stock is falling
Amazon.com Inc.'s run of record-high earnings came to an end Thursday, and shares fell in late trading despite strong sales growth.
Amazon AMZN, -1.35% reported second-quarter earnings of $2.6 billion, or $5.22 a share, up from $5.07 a year ago but lower than analysts' estimates. Revenue was $63.4 billion, up from $52.9 billion a year ago, with the Amazon Web Services cloud-computing business accounting for $8.38 billion of that total. Analysts on average expected Amazon to report earnings of $5.56 a share on sales of $62.52 billion, with $8.48 billion credited to AWS, according to FactSet.
Amazon reported record profit of more than $10 billion in 2018, more than three times its previous high, as previous profligate spending slowed down. In the second quarter a year ago, Amazon reported record quarterly profit, topping even high-volume holiday-shopping periods, and executives specifically cited a slowdown in spending at the time. Amazon had beaten that profit total for a new record in each of the three quarters since, until Thursday's report broke that streak.
Amazon shares fell about 2.5% in after-hours trading immediately following the release of the earnings report, but those declines lessened to about 1% after Chief Financial Officer Brian Olsavsky broke down Amazon's increased spending in a later conference call. Amazon had prepped analysts and investors for a decline with a disappointing forecast for second-quarter operating profit, but the total still came up more than $600 million short of analysts' estimates.
Olsavsky had signaled that spending would rise in discussing first-quarter results earlier this year, revealing that Amazon planned to spend about $800 million to get Prime subscribers' deliveries down to a one-day wait. In Thursday's conference call, Olsavsky said that Amazon ended up spending more than the $800 million it expected in the quarter for the one-day delivery effort, which explained the shortfall. He said Amazon expects to spend even more on the fulfillment change in the third quarter, and reduced guidance accordingly.
"It does create a shock to the system, we're working through that now, and we expect we will be working to that for a number of quarters," the CFO said. "But when the dust settles, we will regain our cost efficiency over time."
Olsavsky also noted that Amazon had ramped up hiring after a pause in 2018, and pointed to other operating-expense increases, notably AWS marketing and international content for the Prime streaming service. Amazon reported that it spent $9.27 billion in the quarter on fulfillment, up nearly 17% from a year ago; $4.29 billion on marketing, up 48%; and $9.07 billion on technology and content, including rights for the Amazon Prime streaming service, up 25%. Overall operating expenses were $36.34 billion, up 18.6%.
For the third quarter, Amazon predicted revenue of $66 billion to $70 billion, with operating profit of $2.1 billion to $3.1 billion, which would be down from $3.7 billion a year ago. The quarter began with Prime Day, Amazon's attempt to establish a shopping holiday in the summer months that the company had already said exceeded sales from Black Friday and Cyber Monday combined.
...
---
AMZN Daily Chart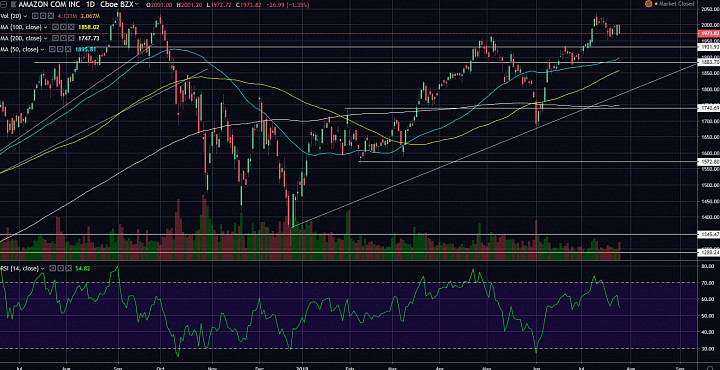 (click to enlarge)
Key Support Around $1900
- On the daily chart, we can see that price has recovered nicely since the 2018 correction.
- But price failed to reach the 2018-high around $2050.
- After the earnings report, price also remained under $2000.
- I think we will see some bearish correction at least in the short-term.
- However, the area around $1900 will be key. Price gets "sticky" when in this area.
- If price remains above $1900, I would say that AMZN is still bullish and will subsequently challenge the $2050 high.
- However, there is also the scenario that price will slide back towards $1800 and test a rising trendline.
- I think even a pullback to $1800 could be within a bullish continuation scenario.
- A break below $1740 would convince of that AMZN is still in consolidation mode, with the potential of a bearish correction as well.
I have a small exposure in AMZN. I had exited some of my position around $2000. This dip would give me an opportunity to put on some weight in this position. At the moment, I have dry powder spread between $1900 and $1800.