Fed Hikes Rate; 2 More Expected; USD/JPY Retreats; Reasons to Buy
The Federal Open Market Committee (FOMC) voted to raise the benchmark interest rate from 0.75% to 1.00%. This was largely in-line with expectation. The committee's guidance suggests there will likely be 2 more rate hikes in 2017, which stuck to the script of the previous Fed announcement.

Federal Reserve Press Release - March 15, 2017 (pdf)
Fed Economic Projections - March 15, 2017 (pdf)

The conventional thinking is that a hawkish FOMC should support the USD. But after the rate hike, we saw the USD fall across the board. The USD/JPY for example fell sharply after tagging 115.50, falling to crack 113.00 during the 3/16 Asian-European session.

USD/JPY 4H Chart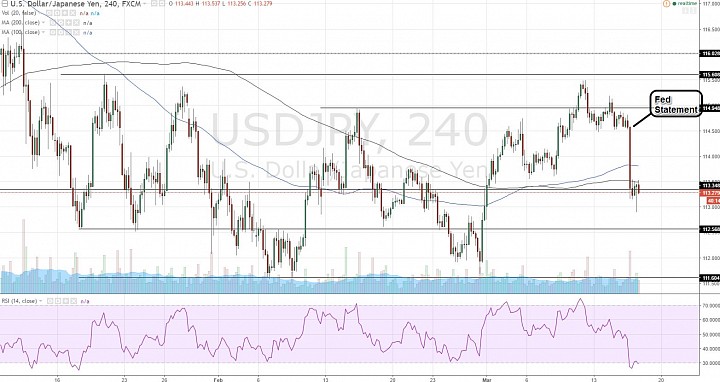 (click to enlarge)

Resistance Holds:
- USD/JPY essentially failed to break above a key consolidation resistance. The break would have been a shift from the currently sideways market to a bullish one. Instead, USD/JPY remains in the sideways consolidation range.
Buy the Rumor, Sell the News:
- This was a buy the rumor sell the news situation. The USD/JPY was propped up in March ahead of the rate hike. 
- The rate hike was highly anticipated. The Fed statement was not more hawkish then the previous.
- Therefore, the market did not have more reason to continue the rally. 
Bullish and Sideways and Bearish?
- A buy the rumor, sell the news reaction does not always set the tone. 
- I still have some bullish bias on USD/JPY in the long-term. 
- But we have to respect the medium-term sideways mode and the short-term bearish reaction.
- Given these different modes in different time frames, I think the prudent thing to do is to wait for price to fall to a key support area. 
- There is a wide support area between 111.60 and 112.60. 
- Right now, there seems to be support at 113.00, but there is too much risk here to buy. 
- If price falls to 112.00, I think its worth considering. We might even consider start with a small position around 112.50. 
Reward to Risk:
- The target should first be limited to 115.00. 
- Let's say the stop is 111.40.
- An entry at 112.50 still yields a little better than 2:1 reward to risk.
- An entry at 112.00 would yield a 5:1 reward to risk.
- Then there are potential targets like 115.50, not to mention the possibility of a bullish breakout. But for now, let's not anticipate that. Let's respect the resistance in the 115 to 115.50 area.