Twitter (TWTR) Bulls Will Have Great Reward to Risk, but Probably Bad Timing
Will Twitter (TWTR) ever make money? That sounds like an existential question for a company, and price action in 2016 reflected a collective "I don't know" as price between 14 and 20 for the most part. We did have a surge to 25.00 which was immediately faded.

The technical picture also shows that the prevailing downtrend is still intact albeit a flattening of price action in 2016. But it looks like the market is holding a line here above 14.00 as if to say above 14.00 is limbo, but below 14.00 could be hell. (Above 25.00 and TWTR would probably be back to life. 

Twitter (TWR) Weekly Chart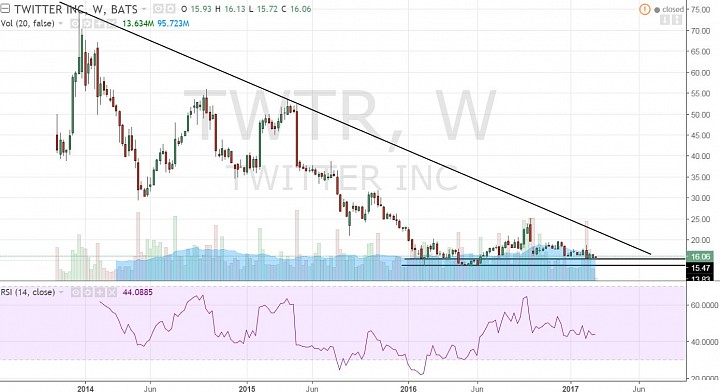 (click to enlarge)

Downside Risk:
- With price around 16.00, there is still downside risk towards 13.85 within the sideways market scenario.
- However, it looks like price is anchoring above 15.50. And, we should note that in a bearish market, buyers could still pick up some bullish corrections. 
- We might get a bounce off of 15.50 towards 19.50, but we should be more cautious because of the prevailing downternd.
Twitter (TWTR) Daily Chart 2/28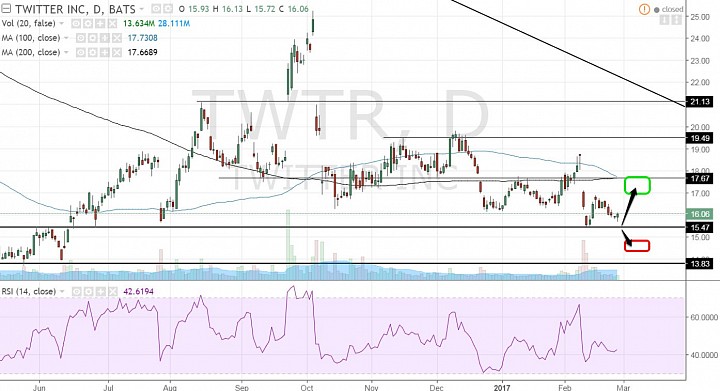 (click to enlarge)

Assessing a Buy at 15.50:
- Let's say go we long at 15.50 with a stop at 14.80.
- This is a risk of 4.5%.
- Our first target should probably be something like 17.00, or at most 17.60. On the daily chart we can see a confluence of pivots in this area. 
- A target of 17.00 provides a potential of 9.6% gain. 
- We can see that even a conservative target has a good reward to risk for a buy at 15.50 with a stop at 14.80. 
- It's just that timing might be bad. It might take a while for gains to materialize, especially gains above the 17-17.60 area.