Qudian (QD) - Assessing the Price Bottom
Qudian $QD has been in a bearish trend almost as soon as it IPOed in October 2017. After an initial high around $35.45, price has slid to $4.00 a year later in October 2018. Then, after some consolidation above $4.00, price appears to have formed a bottom, but will this price bottom hold?

QD Daily Chart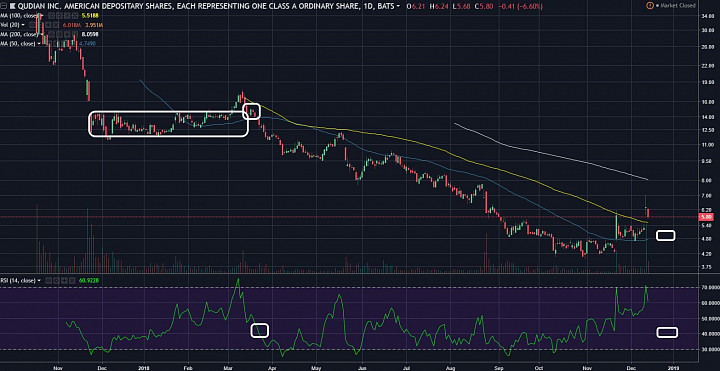 Price Bottom Attempt:
- Price was consolidating between $4.00 and $4.80 but broke higher in late November.
- After surging to $6.20, price retreated. Note that this pullback found support at $4.75, which is a sign that the market respected the price bottom.
- Now, price has made a higher high at $7.00.
- With the pullback, I think a bullish market should find support at $5.40.
- If there is heavy market risk, we can expect some further pullback, but should expect price to hold above $5.00.
- Furthermore, the RSI should hold above 40.
- If price does indeed hold above $5.00 (preferably above $5.40) and the RSI above 40 (preferably above 50), we could be looking for another bullish run towards $8.00.
- However, I would refrain from becoming to bullish. I think we can anticipate a period of sideways market after a year-long decline.
- The $8.00 area is near the 200-day simple moving average (SMA) and is good target for a pullback. But we should probably not expect much upside above this area.
Previous Price Bottom Attempt:
- Looking at the daily chart, we can see that there was a bottom attempt at the beginning of this year.
- However, the pullback did NOT respect the price bottom and continued to fall lower. The RSI also continued to fall below 40.
- Let's see if the market will respect the price bottom this time around after the current pullback.