RBA Stands Pat; AUD/USD Forming a Double Bottom
The RBA held rates and gave a very unsurprising statement. There is a property bubble caused by a rush of investments pushing up housing prices and crowding out first-time buyers. A rate hike to curb investment would not have been a good idea because that would also penalize first time buyers.

Meanwhile, the RBA statement showed a slight dip in inflation, but it is still expected to be in the target range going out to 2-3 years. Economic projections are moderate, but the labor market can get use some consistency as it has been volatile lately. Bank governor Glenn Stevens believes that "the most prudent course is likely to be a period of stability in interest rates". He also noted that the recent decline in the AUD "is offering less assistance than would normally be expected in achieving balanced growth in the economy. (source: RBA Statement)

AUD/USD 4H chart 10/7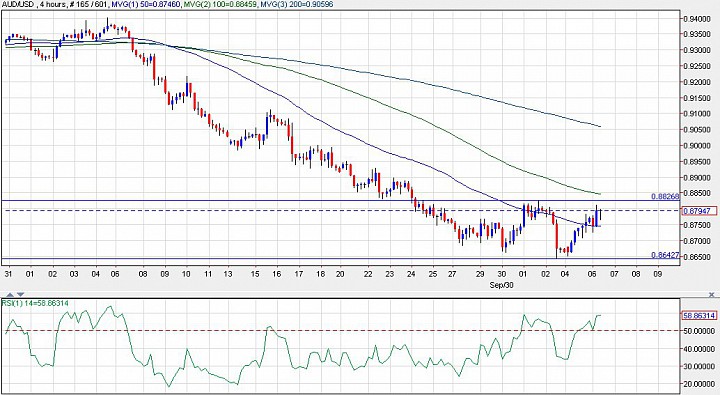 (click to enlarge)
Meanwhile, the AUD/USD is rallying to start the week after falling to a new low on the year at 0.8642. This low was very close to a previous low and thus the rally can be interpreted as a double bottom attempt.

Now, if price does form a double bottom, we should still see if the market can end the week above 0.8750. IF it can, we have a good chance that the price bottom will lead to some bullish correction, with upside risk toward the 0.90 psychological level and support/resistance pivot. 

Otherwise, if price falls back below 0.8750, it will be unclear, and a break below 0.87 would shift the mode back to bearish continuation.