USD/JPY; NFP Jobs report and the December rate hike
Fed and NFP
The  price movement of USD/JPY is highly dependent on what the market thinks the Fed will do in December. So far in October, the market has priced in a rate hike. Health of the labor market is a key factor for a rate hike in December. 

Heading into last Friday's Non-Farm Payroll (NFP) jobs report, the market was tentative. We saw the USD/JPY retreat ahead of the jobs data. The report showed that 161K jobs were added in October, missing forecasts of 174K. The September reading was revised up to 191K from 156K.

We also saw the unemployment rate fall to 4.9% from 5.0%, as expected. Meanwhile, hour wages increased 0.4% in October after a 0.3% raise in September. Unfortunately, the participation rate slid 0.1%. 

Official Non-Farm Payroll from the US Department of Labor
Three Simple Messages From the U.S. Employment Data (Bloomberg.com)


Pricing in a December rate hike?
While, I would not be impressed by this mixed report, I do agree that the improvement in wages can be a basis for a December rate hike. However, my opinion is that the next rate hike will be in 2017. But what does the market believe? It appears to be pricing in a December rate hike. 

USD/JP Daily Chart 11/7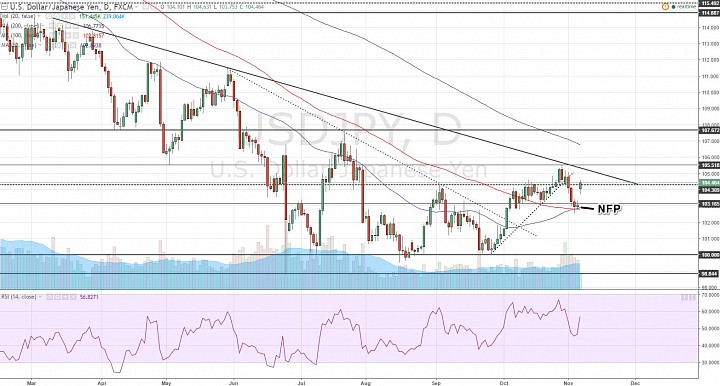 (click to enlarge)
Delayed bullish reaction:
- The USD/JPY faded ahead of the jobs data, but found support afterwards.
- There was no clear winner between the bulls and bears on Friday.
- But as a new week started on 11/7, USD/JPY jumped up . 

Slingshot vs. falling resistance:
- The fact that price broke above the 100- and 50-day SMA and than bounced off of them as support is a bullish signal. It is call a slingshot. 
- This bullish reaction, albeit delayed, maintains the pressure on the falling trendline seen in the daily chart. 
- It puts the 105.50 resistance in sight, with risk of breaking higher. 
- The next resistance after 105.50 could be up to 107.65, or at least 107, closer to where the 200-day simple moving average (SMA) resides.