Euro up then down after the ECB event risk
Today, the ECB announced that it would maintain its current monetary policy objectives, holding the minimum bid rate at 0.00%. Mario Draghi, the ECB president, talked on several topics including Turkey and Brexit. While he also uses caution, he seems to be optimistic when it comes to Brexit. Here's a summary from Reuters: Highlights: Draghi comments at ECB press conference.
The EUR/USD whipped up and then back down. This failure to sustain a bullish reaction opens up the possibility of continuing a prevailing bearish trend.
EUR/USD 1H Chart 7/21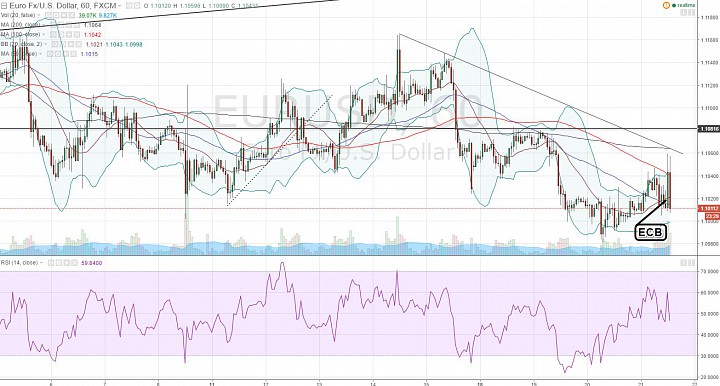 (click to enlarge)
EUR/USD looks likely to continue the prevailing downtrend with 1.09 in sight in the short-term, and perhaps 1.08 in the medium-term. 
https://txcharts.whotrades.com/?snapshotId=ddd8f2f...
EUR/GBP has been in a consolidation mode since the surge to 0.8625. The surge was due to the GBP plunging after Brexit, but it seems like traders are walking back a bit on that GBP-weakness, at least against the EUR. 
EUR/GBP 1H Chart 7/21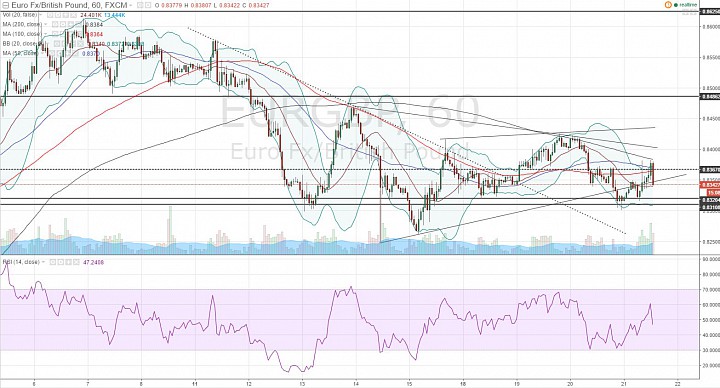 (click to enlarge)
The 1H chart shows that EUR/GBP has been bearish in the short-term after retreating from 0.8625. 
With today's reaction seemingly concluding to the downside, EUR/GBP is likely going to continue the bearish trend, at least in the short-term. 
Note that the RSI held under 60 after it almost tagged 30. This reflects maintenance of the "almost" bearish momentum. 
The 0.8250 low is in sight, with the 0.82 handle in sight as well in this short-term bearish continuation scenario.