Goldman Sachs (GS) Breaks Falling Trendline and 200-day Moving Average
In May, I was looking for Goldman Sachs $GS to extend the prevailing mode of bearish correction that started in 2018. There was a key break below the $188.40 support pivot, which was the basis of my bearish outlook a month ago.
However, price has since climbed back above $200, broke above a falling trendline, and pushed above the 200-day simple moving average. These are signs that GS is in a bullish swing.
GS Daily Chart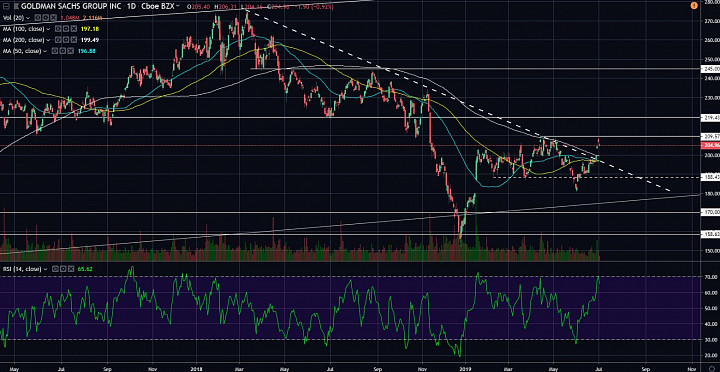 (click to enlarge)
Awaiting Breakout Above $210:
- While the break above $200 was key, the next challenge is to make a higher higher than the previous one, which was at $209.55.
- A break above $210 would therefore be a strong bullish sign.
- Also, a hold above $200 at this point would confirm the bullish outlook as well.
Upside:
- As we can see on the weekly chart below, GS has been in a long-term bullish trend. The correction from early 2018 to now did kill this bullish trend.
- A break below $140 would reflect a bearish trend. But price held above this low and thus continued the pattern of higher lows.
- I think there will be some resistance around $220. But if price can anchor above $200 - treat this level as support - then I think there is at least upside to the $240-$245 area.
- This bullish outlook could be within the context of a multi-year consolidation as well. Otherwise, if price pushes above $245, we could be looking at a bullish continuation towards the $270-$273 highs from 2018, with the prospect of continuing the prevailing bullish trend towards $300.

GS Weekly Chart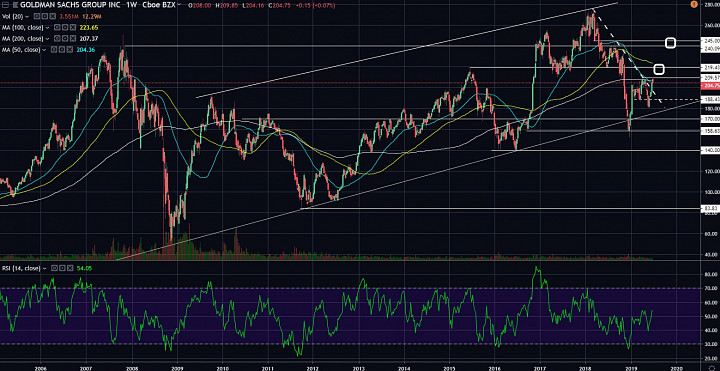 (click to enlarge)