Google/Alphabet Inc. (GOOGL) - Anticipating a Deeper Correction
Google $GOOGL has been in a correction mode since it peaked around $1290 in July. The general equities market downturn dragged it further in October until it came down to about $1000 a share. We can see on the daily chart that price has been consolidating above $1000 since November, but I think GOOGL is setting up for a deeper bearish correction.
GOOGL Daily Chart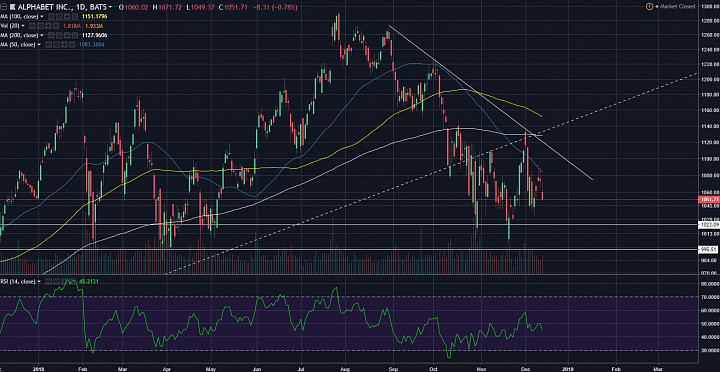 (click to enlarge)
Bears in Charge:
- Since price broke below the cluster of moving averages (200-, 100-, and 50-day), it has stayed mostly under the moving averages.
- There was a strong bullish reversal attempt at the end of November, but we saw that price retreated as soon as it tagged the 200-day SMA. The dynamic of price breaking below the 200-day SMA and then treating it as resistance is a bearish signal called the Bearish Slingshot.
- Note price also respected a falling trendline as resistance, and a previously broken rising support as resistance. (The rising trendline - the broken line - is seen more clearly on the weekly chart below).
- Finally, the RSI held under 60, which reflects maintenance of the prevailing bearish momentum.
- All these provide evidence that bears are in charge.
- Thus, we should not rely on $995-$1000 area to provide support outside of the very short-term.
- I think a deeper correction at least to the $900-$920 area is in sight.
Regression to 200-week SMA?
- A pullback to $900-$920 is actually pretty mild as it does not even bring price back to the 200-week SMA.
- Such a "regression to the mean" would project the correction to $870 area.
- With additional market risk, we can see further bearish correction towards $800.
- For now, I would limit the bearish correction outlook to $800, and start anticipating support around $920, $900, $880 levels.

GOOGL Weekly Chart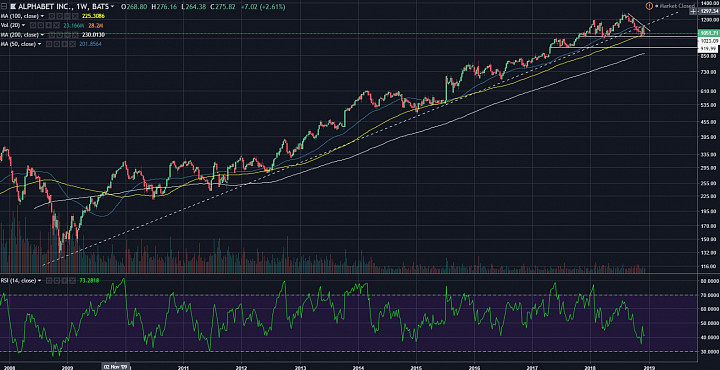 (click to enlarge)