GBP/USD Mainting Bearish Momentum in Consolidation
The GBP/USD started the week pushing lower to a new low on the year at 1.5925. It has been consolidating since. The 1H chart shows the pair in a triangle consolidation. Price action is at the crossroad, but the bearish bias and momentum is still maintained.

GBP/USD 1H Chart 11/4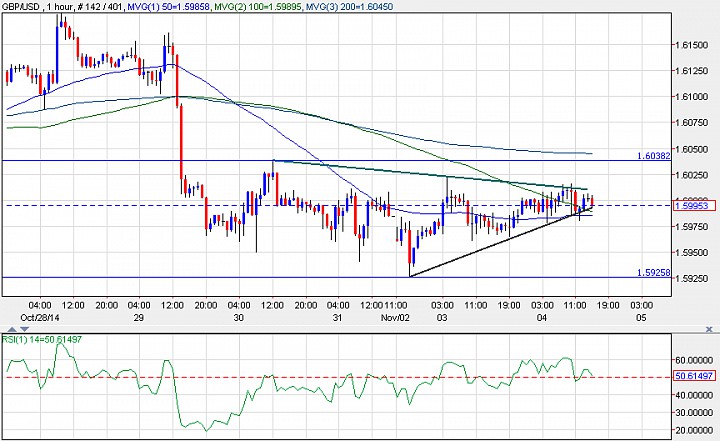 (click to enlarge)

Bearish Bias/Momentum: Price did broke above the 100-, and 50-hour SMAs, but is now trying to break back below them. A break below 1.5980 would clear the SMAs and break below the triangle support, which should put the 1.5925 low in sight. But if price holds above 1.5980, it remains at the crossroad.

Also, the 1H RSI is currently held below 60. This reflects a market still in bearish momentum in the intra-session time-frame.

Bullish Correction: Now, if price pushes above 1.6050, and the 1H RSI pops up above 60, we are likely in a bullish correction. The price action since the end of last week will look like a rounded bottom, price would be above the SMAs, and the momentum will no longer be bearish.