Intel Corp (INTC) Dives; Let it Roll for a Little More
I am still a believer in Intel, but it is probably not going to have alpha when AMD is amassing so much demand. Plus the after today's dip, the technical is looking more sideways than bullish, although I still have the bearish outlook shelved away for now. 

According to CNF Finance, "While we are watching the feeds, the first thing that we've seen has been that Intel Corporation has cut its 5-year forecast for data center growth. Unfortunately, it was cut to single-digit growth, causing concerns." (cnafinance.com)

INTC Daily Chart 2/10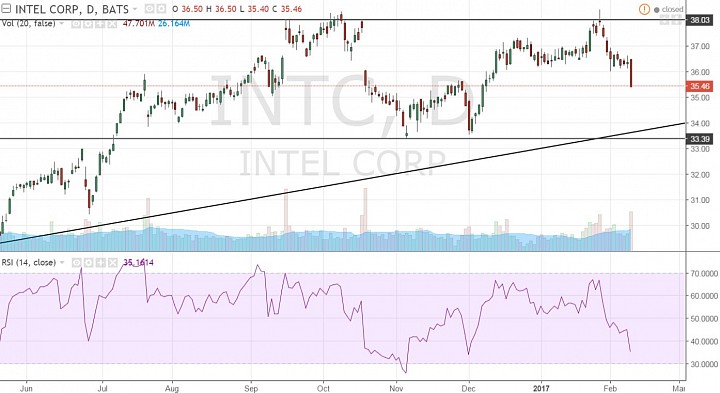 (click to enlarge)

Weakness:
- Looking at the daily chart we see several signs of weakness.
- First of all, while we had a bull run in January, price failed to clear the 2016 high.
- Note that this high is basically the 2014 high, which was at 38. It looks like price is having trouble penetrating this level.
- The thing is price is challenging this high, which points to a long-term bullish potential.
- But in the short to medium-term, we should anticipate some consolidation/bearish correction.

INTC Weekly Chart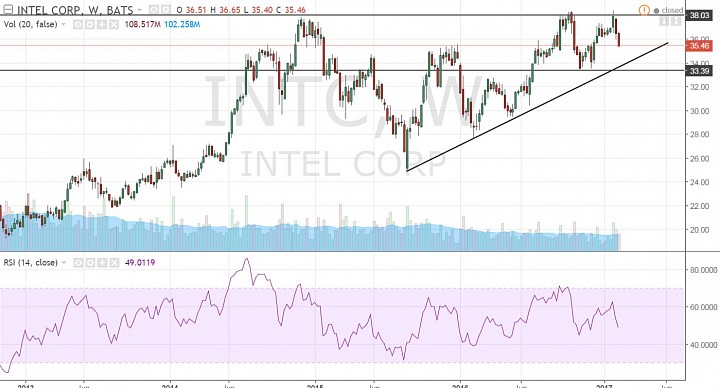 (click to enlarge)
Rising trendline:
- I would ignore the rising trendline and instead monitor the flat support around 33.40-34.
- In a non-bullish market, a prevailing trendline does not mean much. But if the market is sideways, a flat support line might be important. 
- The 33.40-34 area really not that far from the rising trendline. 
- I think this is a good area to buy for a short-term trade based on reward to risk and assuming a sideways consolidation roughly between 33.40 and 38.
Below 33:
- Now if price breaks below 33, the 2015 low near 25.00 would be in sight, though we should also monitor the 30.00 psychological level and common support.