Silver (XAG/USD) Signals Bullish Continuation After Breakout
Silver $XAGUSD is showing strength after a pullback at the end of June and early July.
Silver/U.S. Dollar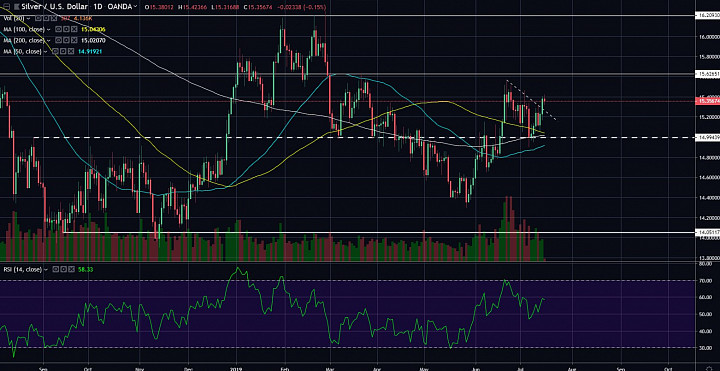 (click to enlarge)
Bullish Breakout:
- First of all, the overall trend for the past couple of years can still be considered sideways.
- However, we did see the 2019-low hold above the 2018-low, which gives us some indication that the market could be taking silver above the current 2019-high around $16.20. (higher low, higher high).
- Note that price already broke above the previous correction pattern before entering another monthly long correction in late June/early July.
- However, after this latest correction, price held mostly above $15, which is a good sign for the bullish scenario.
- Note that price stayed above a key support/resistance pivot as well as the cluster of moving averages.
- The RSI also held above 40.
- Finally, price action started the week strong, breaking above the month-long correction pattern.
- I think there is upside first to the $15.50-$15.60 area, and then the $16-$16.20 highs on the year.
- I also think that the market will eventually push higher towards the $17 area. However, I can see some strong resistance first around $16-$16.20, because this support/resistance pivot is also going to be around the 200-week simple moving average.
Silver/U.S. Dollar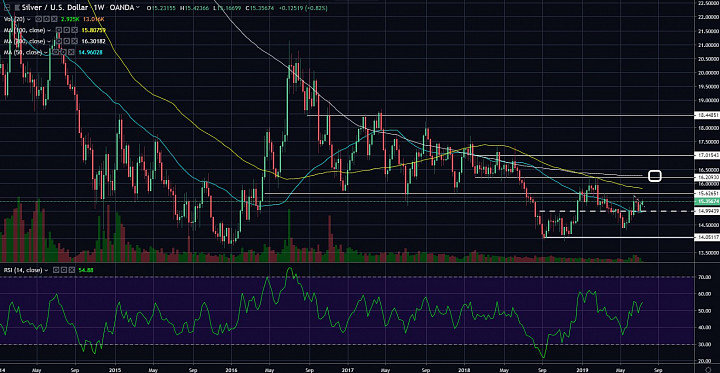 (click to enlarge)