AUD/NZD in a Bearish Continuation Breakout
AUD/NZD has been bearish since August, when the pair was trading at a high around 1.1175. On the daily chart below we can see that price action has been holding below the 200-day simple moving average (SMA), a sign that bears are still in charge.
AUDNZD Daily Chart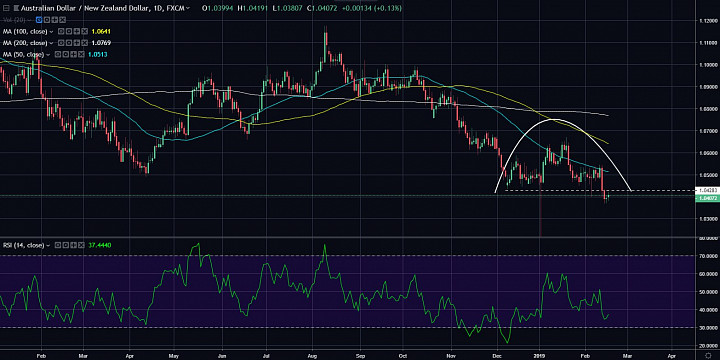 (click to enlarge)
Head and Shoulders:
- The head and shoulders pattern is usually taught as a reversal pattern.
- But in the case of a bearish trend, if we spot a head and shoulders pattern, as is the case with AUD/NZD, we should anticipate bearish continuation.
- Indeed, price recently broke below the "neckline" of this pattern, and has therefore opened up the bearish continuation scenario.
- Also note that the RSI came up to 60 but held under it. This reflects maintenance of the prevailing bearish momentum.
Bullish Potential:
- A break above 1.0550 would instead signal a failed bearish continuation.
- In this scenario, I would still limit the bullish outlook to around 1.08, where the 200-day simple moving average resides.
- Otherwise, we should focus on the bearish potential.
Bearish Potential:
- Looking at the weekly chart, we should note that AUD/NZD has been in a multi-year sideways range.
- This range is essentially between 1.0010 and 1.1425.
- From this perspective, it looks like we can expect buying around the 1.0190-1.0235 area, a common support.
- This would be a conservative bearish outlook because there is a prevailing downtrend.
- Price failed to come back up to the range resistance area in 2017 and 2018. This 'failure' could be a sign of bearish dominance.
- Therefore, we should be confident about price falling towards parity (1.00) as well.
- From 1.00, it might be prudent to go long with targets of 1.08 and 1.12.

AUD/NZD Weekly Chart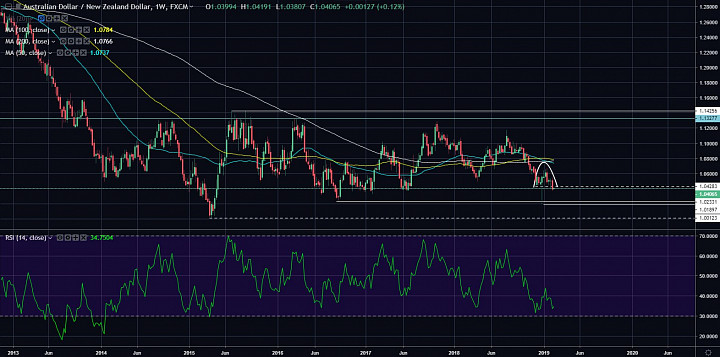 (click to enlarge)